Sure, being a Meddeas Language Assistant means being truly commited to teaching. But once the school hours come to an end, there's much time to enjoy! The joys of sampling foreign cuisine, grappling with a new language, and meeting people from other cultures are all part of the package too! If only there were low-cost opportunities to travel in Spain as well, it would be perfect.
Oh, wait…
Low-Cost Travel in Spain While Gaining Teaching Experience
Sure, Meddeas Language Assistant Programs are demanding and you should join them for the teaching aspect. But once the teaching is done… there is also some time for European travel! So if like most modern twenty-somethings, you are looking for a time abroad to "broaden your mind", and "see the world differently," look no further.
With sociable hours and ample school holidays, a Language Assistant placement with Meddeas gives you plenty of opportunities to explore Spain. And there are a lot of places to visit in Spain.
That said, we live in a paradoxical age of "wanderlusting" and university debts so we have to be realistic about our travel expectations. We cannot afford (literally) to travel in style, so we need to consider low-cost travel options.
If we are going to travel Spain on a budget, it has to be via cheap hostels, damp backpacks, and excessively long bus journeys specifically designed to avoid paying for the AVE, which is the Spanish fast railway system.
A Few Ways that Spain Shows its Support for Your Low-Cost Travel Goals
Puentes
A "puente" is effectively a bank holiday weekend. There are an excessive number of these short breaks in Spain, so use them! During the spring/summer semester, there are at least four, not to mention the Easter break as well.
It's almost as if the Spaniards have organized their "national celebrations" to align with the good weather…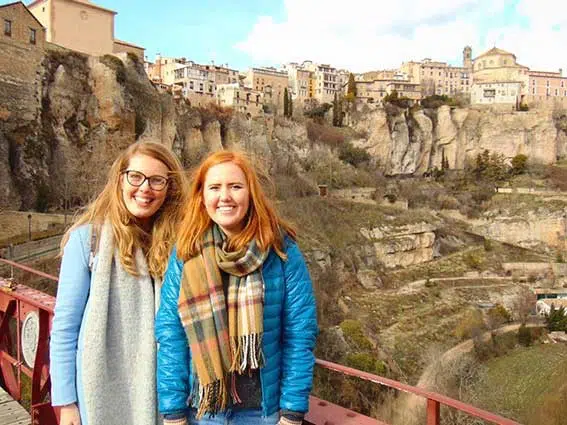 Cheap Bus
When the price of a high-speed AVE is just out of your reach, remember that a cheap ALSA or Avanza bus is always there to bail you out. It may take seven hours to get from Madrid to Barcelona, yes, but for €15. What's not to like?
Transport Cards
According to global trends, capital cities should be expensive places to live in. Yet, that said, I find myself in possession of Madrid's Abono Joven: a transport card for under-26s which costs €20 per month, and provides unlimited metro, bus, and rail travel around the whole Communidad de Madrid. You can even visit towns in Castilla-la-Mancha, such as Toledo, by simply swiping that sweet piece of plastic against the red sensor when you board the bus.
Every region of Spain has something entirely different to offer. If you don't explore at least a few of them, how will you ever know that Asturias has the best arroz con leche and Extremadura, the best jamón? How can you contribute to the Barcelona vs. Madrid debate if you haven't seen them both?
With so many options, the question is not whether to travel but where to start, what to do in Spain, and how to keep the price down. So, what are the best ways to visit Spain on low-cost terms?
My Top Tips to Travel in Spain on a Budget
1. Hit the Countryside
If there's one thing in life that's free, it's walking. So exercise those limbs, open up those lungs, and connect with nature. As the home of the world-famous Camino de Santiago, rural walking trails are not hard to come by across Spain.
Wherever you are, I guarantee the mountains are not far awa,y so pack your sun cream and challenge yourself with a hike. Or, just plonk yourself in a field somewhere and enjoy a relaxing picnic for €1.30 courtesy of any supermarket that sells chorizo and a baguette.
2. Do Two Trips in One
There's no better way to combat the monotony of a long bus journey than to break it up into two legs. Plus, you save money by not taking two separate trips! When travelling to Barcelona in March, I decided to stop in Zaragoza for an afternoon, mainly because I had spent years admiring this particular roof on Google Images!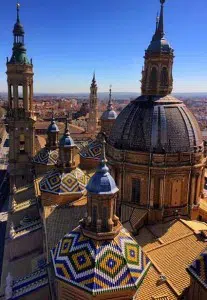 It was well worth it because, firstly, the roof of the Basilica was as wonderful as I had hoped. Secondly, I avoided developing Deep Vein Thrombosis, which would have been an inevitable consequence of vegetating on a bus all day.
To ensure your stop-offs are a success, check out bus routes and consult maps before you head anywhere. You never know what options there are. Maybe you have friends in another part of Spain? Why not stay with them for a few nights on your way to somewhere else?
My personal stop-off recommendations: travel to Sevilla via Merida, San Sebastian via Pamplona, or Malaga via Nerja.
3. You Don't Have to Travel Far
Don't forget, there are probably heaps of Spanish pueblos and villages to discover right on your doorstep. As well as offering a change of scenery and perhaps a change of pace for those who are used to city slicking, every pueblo offers a taste of "the real Spain." In other words: cheap tapas, rustic buildings, and unwelcome stares from old people who apparently have nowhere to be except sitting in a town square, sipping cañas, and people-watching.
From Madrid, you can day trip to Segovia, Toledo or Cuenca very easily via bus or train. And, naturally, a day trip does not require an overnight stay so you and your wallet are spared the stress of having to book accommodation.
4. In Fact, you Don't Even Have to Leave your City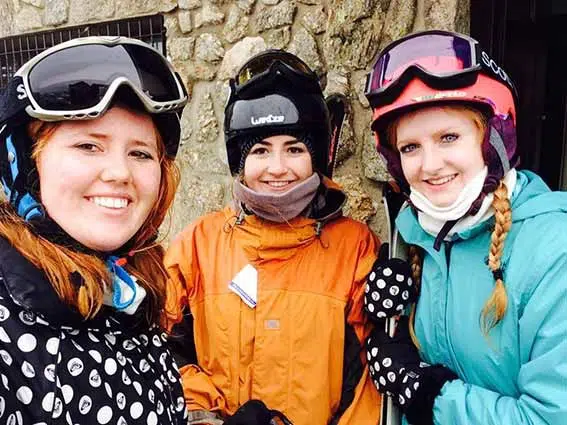 Discovery starts from right where you are. Luckily for me, that was the bustling city of Madrid, where there is perhaps too much choice of restaurants, bars, and hole-in-the-wall cafés. After exhausting the popular tourist trails and the hipster hotspots of Malasaña and Chueca, I decided it was time to organize my adventures in the city. I couldn't deal with the prospect of heading home without seeing everything I wanted to see (also known as an affliction called FOMO in modern-day lingo).
So, a friend and I drafted a bucket-list of everything we wanted to do in Madrid. Every quirky coffee shop, every obscure museum, and every upcoming acoustic concert went on the list. It became one huge, five-month project. We did our research: we called into theatres to pick up programmes, kept an ear to the ground for upcoming festivals, and talked to locals to discover the best places to eat.
 After that, it was just a matter of trying to score off one or two each weekend, whether it be a trip to the fossil museum, the cereal café, Sunday afternoon micro-theatre, or a street art painting expo. We even busked and attempted to ski! And, the beauty of it is that every time we ticked one activity off the list, we found ourselves adding another.
Blend In with Spanish Culture
All in all, never limit yourself. Even if you only have a little money left over at the end of the month after you eat and drink the majority of it away, make sure to do something new. Branch out, whether it be close to your new Spanish home or further afield.
Make the most of every opportunity, every weekend off and every connection you make. You're unlikely to find as flexible a teaching experience opportunity ever again. So, go ahead and immerse yourself in the Spanish culture!