The North of Spain is often overshadowed by the southern attractions. However, it has a rich array of unique experiences waiting to be explored. From lush green landscapes to historic towns, it offers an authentic glimpse into Spanish culture and traditions. In this blogpost, we'll explore the best places to visit in Spain, focusing on the top six destinations −including hidden gems− in the North. You'll find insights on what to see, do, and eat. Whether you're a nature enthusiast, a history buff, or simply seeking an off-the-beaten-path adventure, this list has something for everyone.
Santiago de Compostela, Galicia
Nestled in the verdant region of Galicia, Santiago de Compostela is a city that captivates the hearts of pilgrims and travelers alike. It stands as the final stop of the Camino de Santiago (or Saint James' Way) drawing visitors from all over the world. The arrival point for most pilgrims is the main square, Praza do Obradoiro; and at its heart, you will find the Santiago de Compostela Cathedral, a UNESCO World Heritage Site. It dates back to Medieval times and it is believed that St. James, an Apostle of Jesus Christ, is buried there.
Other historic buildings are Gelmírez Palace, Rajoy Palace, Catholic Kings Hostal, and San Jeronimo College. Besides, the Pilgrimage Museum is a good place to learn all about the history and significance of the Saint James' Way. At the same time, the Museum of the Galician People showcases the culture and history of the region. And be sure to savor Galicia's culinary delights such as pulpo a la gallega (octopus) and empanadas (savory pies), as they take center stage in this rich and amazing city.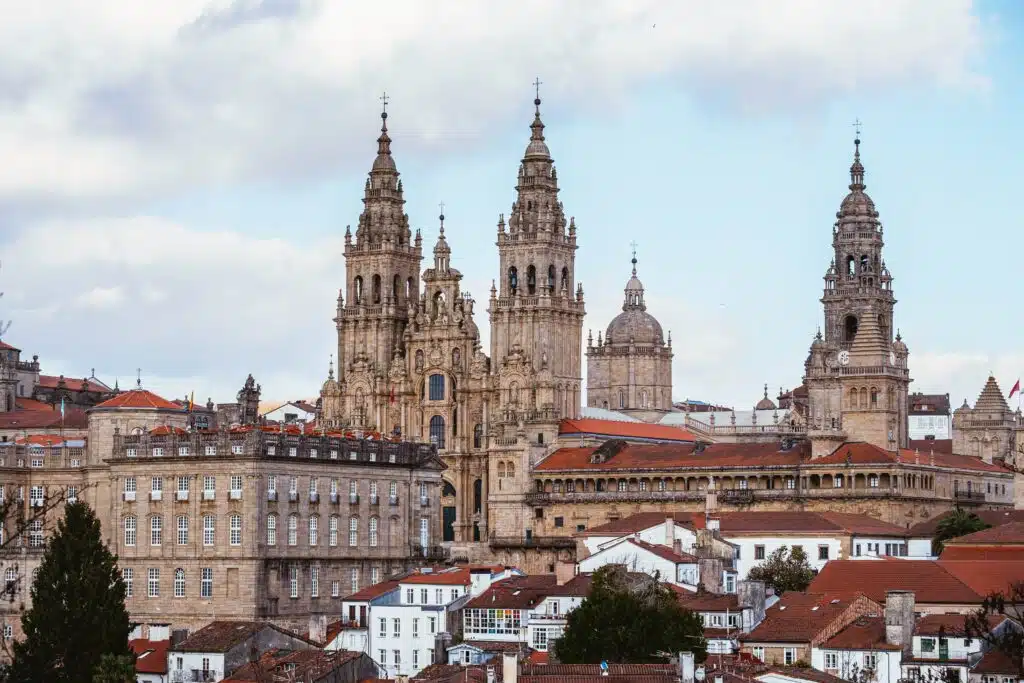 Cudillero, Asturias
Situated along the rugged coast of Asturias, Cudillero is a picturesque fishing village that enchants all visitors. The vibrant, multi-colored houses that cling to the cliffsides create a captivating backdrop for your exploration. The main attraction is the lively fishing port, where you can witness fishermen hauling in their catch of the day. To truly experience the local culture, head to one of the seafood restaurants by the harbor and savor the freshest seafood dishes, with fabada asturiana (a hearty bean stew), being a local favorite. For a bit of adventure, you can hike along the scenic coastal trails that offer breathtaking views of the Cantabrian Sea. Or simply relax on the tranquil beaches, such as Playa del Silencio, where the sound of the waves and the serenity of the landscape provide a perfect escape from the hustle and bustle.
Additionally, consider planning a side trip to nearby coastal gems like Llanes or Ribadesella. Llanes is known for its stunning beaches, historic old town, and the dramatic rock formations of Playa de las Cámaras. Meanwhile, Ribadesella offers a blend of natural beauty and history, with the Tito Bustillo Caves showcasing prehistoric art. Both destinations provide a delightful extension to your exploration of the Asturian coast. They all may be hidden gems in Northern Spain, but their beauty and unique atmosphere make them destinations well worth exploring.
San Vicente de la Barquera, Cantabria
This charming seaside town is perched between the green hills and the Bay of Biscay, providing a stunning setting for your visit. The medieval Church of Santa María is a must-see, as it offers panoramic views of the town and the sea from its elevated location. Nature enthusiasts can explore the nearby Oyambre Natural Park, a protected area with dunes, wetlands, and a diverse range of bird species. You can also embark on coastal hikes and enjoy the picturesque beaches that dot the coastline, such as Playa de Merón. Regarding gastronomy, the town is known for its seafood, so don't miss the opportunity to savor dishes like arroz con bogavante (lobster rice) or freshly caught fish in one of the local restaurants.
While in San Vicente de la Barquera, consider extending your journey to nearby attractions like Comillas with its modernist architecture, or Santillana del Mar, known for its beautifully preserved medieval quarter. You'll love them all!
San Sebastián, Basque Country
San Sebastián, or Donostia in Basque language, is undoubtedly one of the best places to visit in Spain. It is a coastal jewel known for its stunning beaches, world-class cuisine, and elegant architecture. La Concha Beach, with its iconic crescent shape, is perfect for sunbathing and swimming. Food lovers will be in paradise, as San Sebastián boasts numerous Michelin-starred restaurants and is famous for its pintxos (Basque tapas). Stroll through the old town and hop from one bar to another, savoring a delightful variety of small plates. For a cultural experience, visit the San Telmo Museum to delve into Basque history and art. And don't miss the breathtaking views from Mount Urgull or Mount Igueldo, overlooking the city and the sea.
As you explore the Basque Country, consider planning side trips to Bilbao, known for its iconic Guggenheim Museum and vibrant urban scene, or Hondarribia, a picturesque coastal town with a charming old town, marina, and beautiful beaches. San Sebastián and its nearby attractions offer a dynamic mix of cultural richness and natural beauty that should not be missed during your journey through northern Spain.
Olite, Navarra
Located in the heart of Navarra, Olite is renowned for its beautifully preserved medieval castle, the Palacio Real de Olite. This fairytale-like castle boasts turrets, courtyards, and extensive gardens, making it an exceptional architectural gem.
Strolling through Olite's historic center, you'll be transported back in time as you explore narrow streets with charming stone houses and squares filled with cozy cafes. Don't miss the Church of Santa María la Real, a magnificent Gothic structure! The local cuisine in Olite reflects the rich Navarran traditions. Savor dishes like pimientos del piquillo (a tasty variety of red peppers) and cordero al chilindrón (lamb stew) in one of the town's restaurants. Also enjoy a glass of Navarra wine, renowned for its quality.
To enhance your experience in this region, consider venturing to nearby destinations such as the Bardenas Reales, a semi-desert landscape offering unique hiking and photography opportunities, or the Urederra Natural Park, where crystal-clear blue waters cascade through a lush forested gorge. These neighboring attractions add another layer of charm to your exploration of Olite and the northern region of Spain.
Jaca, Aragón
Located in the picturesque region of Aragón, Jaca is a historical gem that offers a glimpse into Spain's rich heritage. This charming town is known for its well-preserved medieval architecture and the strong influence of Roman and Moorish cultures. At its heart lies the impressive Jaca Citadel, a military fortress with a fascinating history that now houses a museum. The Jaca Cathedral, with its Romanesque and Gothic features, is another must-visit, showcasing intricate sculptures and breathtaking stained-glass windows. And don't forget to stroll through the lively Jaca Old Town as well, where you can explore quaint streets and squares, and discover cozy cafes and local shops.
Moreover, Jaca is also a popular destination for winter sports enthusiasts, as it serves as a gateway to the Pyrenees Mountains. Skiing and snowboarding opportunities are abundant in the nearby ski resorts like Formigal and Astún-Candanchú offering slopes for all ages and skill levels in some of Spain's most stunning landscapes.
There's no need to say that Jaca's unique blend of history and outdoor activities makes it a well-rounded destination for travelers exploring the northern region of Spain.
Best Places to Visit in Spain… With Meddeas
Whether you're a traveler by nature or simply seeking a unique adventure, this list has a city in Northern Spain waiting for you. And all this is possible with Meddeas, your gateway to experiencing the best places to visit in Spain. If you want to know how to do it, read more about our Teach in Spain Programs and start the adventure of a lifetime. Becoming a Language Assistant will not only give you international professional experience but also the chance to explore the world, learn about other cultures, and live an unforgettable time.