During my two years as a Language Assistant, I learned as much as I taught. The phrase "you get what you give" seems very appropriate for this invaluable internship and I'm going to tell you why. Being a Language Assistant is more than a placement: it's an opportunity. I never felt dread on a Sunday evening at the thought of going into school on Monday. I never begrudgingly spent time with my energetic and eager students. However, I feel like that wouldn't have been the case had I not put in time and effort planning my lessons and building relationships with my colleagues and pupils.
So, what skills do you need in order to get the most out of your experience?
Initiative
This is one of the most valuable skills you can have. As a Language Assistant, you will have lots of support: the Meddeas team, the tutor at your school and a network of other Language Assistants. These people are all there to help you, especially in the early stages when you are settling into a new city and school. After this initial stage (one or two weeks), in my experience, I didn't need much support at all from these sources. You will be expected to use your own initiative to find resources and prepare your own activities. Overall, by showing initiative you also demonstrate that you are mature and autonomous.
When you help to teach in a school, you are a small part of a big team and there is always something going on whether it is an exam, a school trip or a special visitor doing a talk at the school. Sometimes you will find that you have more or fewer students than usual, that the classroom you normally use is occupied or that you don't have your class at all that day. You should expect to be advised about any changes most of the time, but with such a large school network there are bound to be unexpected changes from time to time. My advice is to take these unforeseen circumstances in your stride: be calm, sensible and logical.
Having a Back-Up Plan Can Save You!
Another good idea is to have an arsenal of quick and easy games to play with the students when something doesn't go according to plan. Plus, on that note, always have a backup plan if you are relying on technology!
One day in my school, there was a power cut and we happened to be studying the topic of technology – how ironic! We were in the middle of an interactive game on the whiteboard when, suddenly, everything cut out. Luckily, there was a lot of natural light, but, of course, we couldn't continue with the interactive activity. I used this inconvenience to my advantage by asking the students to imagine what our lives would be like without technology. We got into a big discussion about it and made a mind map on the blackboard to explore this theme. By actually having no electricity, I think it was easier for the students to complete the task! The important thing for me was not to be angry or confused about the power cut, and just adapt what I was doing without a fuss.
Flexibility
Your school will provide you with a timetable outlining your teaching hours and breaks. In the first few weeks or when terms change, your timetable may be adjusted due to many factors: new subjects, student exchanges or changes in staff. In my experience, I have always tried to be accommodating and flexible with all the requests. The reward is that when you have your own commitments, such as holidays or appointments, the school will be much more likely to accommodate you. For example, on two occasions I came in earlier to do extra classes before exams. Later in the year, I asked to leave a few hours early one day to catch a flight and my school said it wouldn't be a problem. It works both ways.
Patience
Being with children and young people can be tough. Depending on the age group you teach you will encounter different challenges and rewards. However, one thing you need no matter who you teach with is patience. When teaching the little ones you need to be patient when all of them want to speak to you, hug you and are wandering off around the class constantly! With teenagers, you need to be patient when they aren't motivated or are frustrated that they don't understand something.
I have found that when the students know that you have time for them, they will make time for you. That is, if you listen to what they have to say and let them stay behind after class every now and then if they are struggling with something, as time goes on, they are more likely to pay attention in your class, do any homework you assign and generally apply themselves to your subject.
Creativity
Young people's creativity is truly impressive. You will encourage your students to express themselves and be motivated by tapping into your own creativity.
There are often great resources available in textbooks at my school that I can use in my class. However, if you use the same textbook in every class, the students soon get bored. Therefore, I often use the textbook as inspiration and change the activity slightly by making it into a game, worksheet or interactive activity. We could be doing the exact same activity, but by presenting it to the students in a different way they are more interested from the beginning. I would say that it is also a good idea to use a different medium in each consecutive class. For example, if you use the textbook on Monday, use the interactive board on Tuesday and a board game on Wednesday. You could be teaching the same learning objective but by changing the way you present the material to the students, they don't see it as repetition.
Teamwork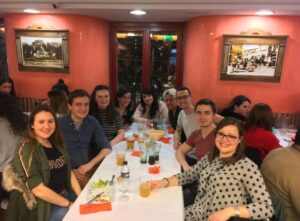 With regard to enjoying your experience, teamwork is imperative. It is important to integrate with the school from your first day. Teachers and staff should welcome you and you should try to take an interest and be receptive to their welcome. Make an effort to get to know the staff too, to feel part of the school community. Even though speaking Spanish isn't mandatory to be a Language Assistant, it is nice to have a basic level in order to communicate with colleagues who don't speak English. On top of that, even if there are language barriers between you and other staff, always say "hello" in the corridor with a smile. That's a language everyone understands!
By feeling like part of the team, you will feel more comfortable in the environment where you will spend many hours a week. You may even end up socialising with some of your colleagues, too, which can help you get to know your area and keep up to date with the latest events and national holidays.
---
Overall, there are many soft skills that can not only help you be a better Language Assistant but also enrich your experience and make your time in Spain memorable for all the right reasons. Try to remember that you are part of a bigger picture, a role model for your students and a valued member of the school community. If you always arrive at school with a smile on your face, a plan, a back-up plan, and an open mind you will have a rewarding and unforgettable experience.
2017/18 By Rebecca E.