Harriet, a recent graduate from the UK, was a language assistant with Meddeas during the academic year 2015/16. This past year she has been teaching in Mexico. The TEFL certification obtained in Spain with the programme and the practical experience gained in the classroom encouraged her to move to Mexico to teach English as a foreign language.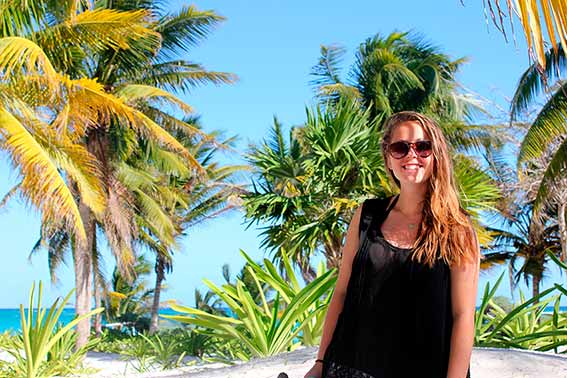 "The attraction of gaining a TEFL certification was too good to pass up"
1. Why did you take the step of teaching abroad in Spain?
I always knew I wanted to teach abroad and Spain seemed like the perfect place to do it. Moreover, I wanted to improve my Spanish, having studied it at school before university. I had also travelled to Spain on holiday as a child. Therefore, when considering my options and looking for TEFL positions, Spain was at the top of my list. I found Meddeas through a TEFL website and I was immediately attracted to what they had to offer. I hadn't planned to study at the same time but the attraction of having an extra qualification was too good to pass up. Now I have a TEFL certification on top of the fantastic experience that I gained.
2. Choose one specific memory of your experience in Spain while being an ESL teacher:
I have many fond memories of my time spent with my host family. They gave me so many opportunities to do and try different activities that I had never done before. For example, I spent the first 4 months of my stay in País Vasco learning (or attempting to learn) to ride a horse. Much to the entertainment of my host brother and sister, I was truly terrible at this. It was also really fun learning how to make authentic Spanish (or Basque) cuisine with my host parents. I still enjoy making Spanish tortilla and various "postres" (puddings) that I learnt from my host mom.
My fondest memory of my time with them is actually the day that I left. I wrote a letter to them and we exchanged gifts and I really felt that I'd gained an extra family. It was extremely emotional! I will always remember and be grateful to them, and their extended family and circle of friends, for making me feel so welcome in their homes.
3. What friendships do you keep from your stay in Spain?
I made such wonderful friends during my time teaching ESL in Spain. Indeed, I was lucky enough to share my time with some other language assistants. I think life might have been quite a bit harder without them as I was in a school where Spanish wasn't actually the first language. At first, I found this a little bit difficult but having fellow assistants made me feel much more comfortable. We had many adventures together, including a rather interesting evening at the Guggenheim Museum, a small trip to Andalucía at Easter, and even a school trip with 80 10-year-olds. We hailed from all over the world (between us we covered three continents) and we created friendships that I hope will last for years to come.
My host family became a second family to me. They will always have a special place in my heart and I will remain close to them for years to come. I regularly Skype my Spanish family (or SpanFam) and help my host kids with their English studies. Now that I live in Mexico they find my new Spanish accent extremely entertaining!
This is a video I made which summarizes my experience in Spain:
4. In what sense has your worldview changed after your year in Spain?
I think my worldview has changed but in particular my approach to education, general teaching, and teaching English as a foreign language. In fact, I learned a lot from being placed in a school where languages are extremely highly valued and also where there were many different customs to those of English schools. I, therefore, learnt a lot about teaching methods (plus the TEFL certification course) and how a second or third language can open up so many opportunities for young people. I am sure that I will use my experience with Meddeas to influence my future teaching practise.
Living with a host family, I also learnt about what one can gain from living in, not only another country, but another person's house. I could have lived on my own or with other language assistants but, instead, I chose a host family. At times this could be difficult as 9 months is a long time to live in someone else's house but overall it was such a fantastic experience for me. I was able to learn things and visit places that I'm not sure I would have had I come to Spain and lived alone. Part of travelling for me is the experience of immersing yourself in local culture and this was a fantastic way to do just that.
5. Did you improve your level of Spanish?
My Spanish improved immensely. I started this whole experience with a somewhat naïve view of my level of Spanish. I was pretty confident that I would get by easily with my rusty A-level Spanish. Therefore it was a real shock to the system when I realised that I had severely underestimated how difficult it would be. During the year, I didn't take official classes but I was offered help and "tandem" sessions with many friends and teachers.
This has propelled my opportunities to travel the world and apply for international teaching jobs. I currently use Spanish every day in both my work life and my home or social life. After spending a year in a Spanish-speaking country I realised how much I wanted to continue with the language (I am still far off being fluent), but that I needed a bigger challenge. I, therefore, applied for a similar ESOL positions in Mexico and, now, here I am in sunny Yucatan. The Spanish here is quite different at times and my host family regularly enjoy chuckling at my new, Mexican lingo and pronunciation. But having the experience from Spain has made my life here so much easier.
I've also found that it helps teach English. It's true that you can be an English teacher without knowing the native language of your students but recently I've found that I can understand better my students' errors and where they make mistakes with literal translations from Spanish to English. I think even the basic knowledge of Spanish has helped me with this.
6. How has this experience improved your CV and professional life? Did the TEFL certification help you?
I gained so, so much from my experience with Meddeas. To start with, they helped me to achieve a TEFL certification which I never imagined I would have after 4 long years at university (I was ready to never study again). This TESOL certificate definitely gave me another perspective from which to teach and more teaching and assessment ideas. I became more reflective and also more interested in new methods of teaching English as a second language.
The year with Meddeas gave me the kick start I needed to begin a possible career of teaching English. I have no idea how long I will do this before I go back to drizzly England but at the moment I am doing a similar job in the South East of Mexico. I hope to stay and continue to teach English in Central and South America.
7. What advice would you give to someone applying for teaching English abroad jobs?
I actually read a blog post similar to this that someone wrote before I embarked on my Meddeas journey and their advice was profound enough to stay with me that I will simply pass it on.
"Say 'yes' to everything."
I just mean that you should make the most of every opportunity that comes your way. If a family invite you for lunch, say 'yes'. If school ask you if you want to go on a school trip, say 'yes'. In case your friends invite you on a night out, say 'yes'. Some of my best memories are from the situations where I simply said 'yes'. I still use this and find that I'm having the best time doing what I'm doing.
To read more about Harriet's adventures teaching and exploring the world, visit her blog (Kalimotxoblog)!
If you enjoyed this post about how to gain a TEFL certification and practical experience, don't miss out the following articles: