Thais M. graduated from Boston College, in the United States, and was not clear on what to do next. She did some research and ended up captivated by the idea of teaching her native language in Spain. After spending one academic year in a Spanish school, she has made lifelong bonds in Spain.
1. Why did you decide to teach English in Spain with Meddeas?
In my final few months of college, I had no idea what I wanted to pursue. I have a varied set of interests and aspirations, but no one job or career path felt right to me yet. What I was most certain of was a sense of adventure. I found Meddeas through my university's recruitment center and it immediately dawned on me that taking a year to teach English in Spain was exactly what I wanted to do. I knew I didn't want to become a teacher as a career choice, but I loved spending time with children, and I knew I could not turn down the immeasurable life experience that comes with living and teaching in another country.
2. If you had to choose one specific memory of your Spanish experience, which one would it be and why:
As you can imagine, this is an incredibly difficult question! Toward the end of my time in Spain, my city (Jerez de la Frontera) hosted its annual spring fair, La Feria del Caballo, simply known to Andalusians as "feria". Many towns in AndalucÍa host their own version of a feria, a week of eating, drinking, and dancing. Festival goers, particularly women, are encouraged to wear traditional trajes de gitana, or flamenco dresses. These festivals date back to the 18th century. For jerezanos, it was the highlight of the year, and I quickly learned why. My friend lent me an unbelievable dress (the dresses can be quite expensive, so borrowing one is always a good idea) and I blended right in—until I started dancing sevillanas, that is. I will never forget the pure joy that is feria, an excellent way to round out my year in Jerez.
3. What friendships do you keep from your stay in Spain?
I met one of my best friends in Spain in a grocery store. Startled by the sounds of English (Jerez is a tiny town where not many folks speak it), I immediately introduced myself and we were inseparable since. My Canadian friend stayed in Jerez an extra year, but we still keep in touch almost every day. Also, I am constantly in contact with some of my lovely Spanish friends, including my old housemates and some of the professors at my school. I know I will return to visit them over the next few years. I truly formed lifelong bonds in Jerez, and leaving was a huge challenge.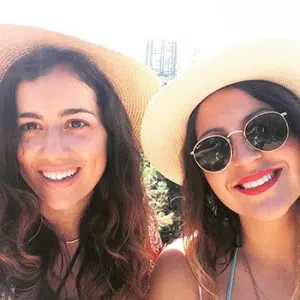 4. In what sense has your worldview changed after your experience teaching in a school in Spain?
My personal philosophy as a whole evolved throughout my time in Spain. As an English Language Assistant to ages 3-16, my patience was tested constantly. Nonetheless, I grew attached to all my students—saying goodbye (see related post: Overwhelming Farewell) was a challenge, even to the most unruly students. As an inhabitant of a small Andalusian town, I adapted to a standard of living much different from that of my American counterparts. It is no secret that Spain has dealt with many economic issues in recent years, but the citizens of my town still found reason to celebrate life and spend time with friends and family. I learned the importance of a work-life balance, and I have come to accept that we cannot necessarily define ourselves by our 9-5.
5. Did you improve your level of Spanish? If so, has it helped you in your professional career?
As a native Spanish speaker, I was quite at home in Spain—even though my Cuban accent immediately gave me away to most Spaniards. My family back home was quite amused when I returned with a new accent, and I adapted some new Andalusian vocabulary words into my speech. I use Spanish as often as possible, but my knowledge of Spanish has helped me to learn other languages as well, and that is certainly an invaluable skill to have, especially in our globalized world.
6. How has this experience improved your CV/resume and professional life?
When I tell people I spent my past year teaching English in Spain, the reactions are always positive. Of course, it is an impressive feat to list on your resume. Employers understand the importance of life skills that can only be acquired from leaving the comforts of your hometown, not to mention your home country, in exchange for an adventure. Additionally, the independence and professionalism gained from having a work experience through a private agency as a representative of your country and language are remarkable.
My decision to leave Spain was a very difficult one. I strongly considered staying with Meddeas for another year. But I was offered a position with Studio Theatre in Washington, DC. I am working in the theater's Education department, which is an interesting way to combine my love of the arts with my experience in education from my year teaching English.
7. What advice would you give to someone joining Meddeas to make the most of this experience?
Keep an open mind and immerse yourself. Say yes to everything. Every invitation for a coffee or a beer, every spontaneous trip, every school activity. You will only regret the things you didn't do.