Learning Spanish was not an option at the elementary school or high school I attended in Canada. I had always been interested in the language from family trips to Central America during my childhood. So, being a Language Assistant and teaching in Spain with Meddeas seemed like the perfect opportunity to immerse myself in the Spanish culture. And hopefully, start learning Spanish. Or at least, grasping some of the language along the way.
Let's Get Started!
I was able to complete all the necessary administrative tasks in the first few months with my very low level of Spanish. And I settled into my role as a Language Assistant. But I frequently felt the need to improve my language skills.
There are day-to-day interactions that you take for granted in your native language. For instance, signing up for a gym membership or asking store clerks where to find specific items. These are much more difficult in a foreign language.
Furthermore, working to improve my Spanish has been helpful for building connections with teachers at my school who only speak a low level of English. Or no English at all.
The following seven tips have allowed me to go from being able to say little more than una cerveza por favor, to speaking enough of the language to have a basic conversation and understand important information while listening. At least when the locals patiently help me out by speaking slowly and enunciating!
1. Be Consistent Learning Spanish
The most general piece of advice I have for improving your language skills is the same principle that applies to the development of any skill: consistency. In the first month of living in Spain, my motivation to learn Spanish was high. So, I'd practice in some form for about an hour every evening.
However, as I started to make friends and explore different cities on weekends, I found I prioritized my language learning less and less. If learning Spanish during your time as a Language Assistant is important to you, then it is essential that you schedule into your agenda Spanish activities and practice. Even five minutes on an app, such as Duolingo, is better than nothing at all.
The most important aspect of maintaining consistency is finding your "why" for learning the language. Is it so you can make new friends. Or so you can comfortably navigate the city. Or so you can participate in conversations at lunchtime with the teachers at your school. Consider what motivates you to learn and remind yourself of this whenever you don't feel like practicing.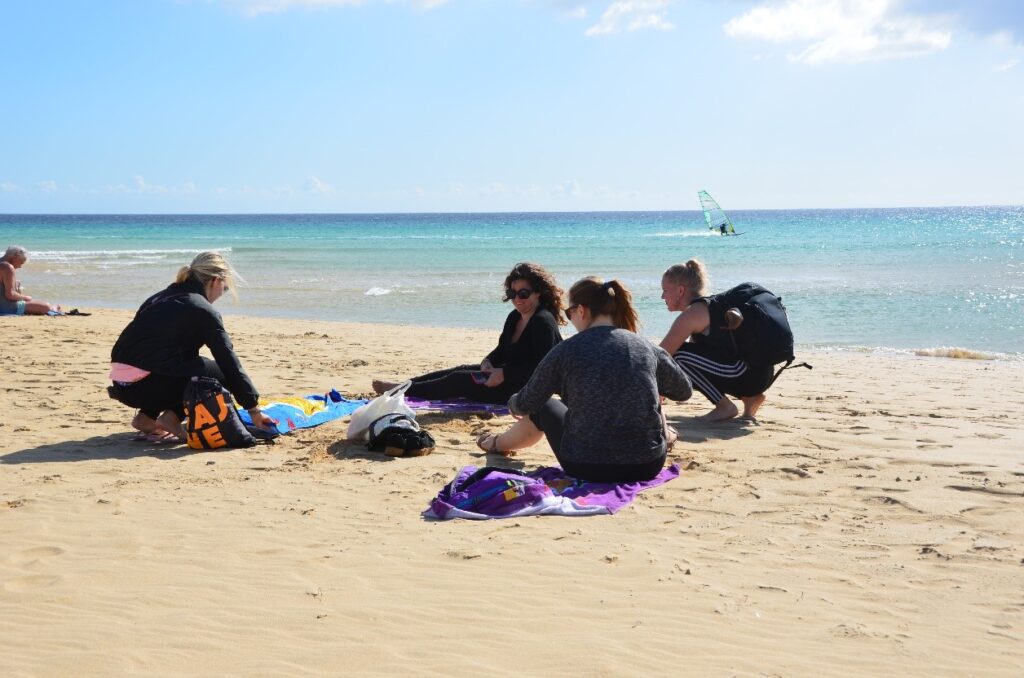 2. Make Friends Who Speak Spanish
I share an apartment with three university students who are all native Spanish speakers from Gran Canaria. Two of them speak English well and help me practice my Spanish. They speak slowly and only switch to English if I don't understand. My third flatmate doesn't speak very much English, which is helpful. If I want to communicate with him, I'm forced to have conversations in Spanish and I'm not tempted to start speaking in English.
So, first of all, if you can find native Spanish speakers to live with and befriend, it will be very beneficial for your language learning. Second, I've also found it helpful to make friends with Spanish-speakers whose native language is not Spanish.
Some of my closest friends here are from Finland, Czech Republic, and Italy. I find it easier to understand and communicate with them in Spanish because they usually speak more slowly than native speakers.
Additionally, learn the phrase, "¿Puedes hablar un poco más despacio, por favor?" (" Can you speak a little more slowly, please?"). It will be very helpful when speaking with new friends who are native Spanish speakers. Finally, when speaking with bilingual friends, commit to having at least part of the conversation in Spanish.
3. Have at Least One Conversation in Spanish Every Day
When I first arrived in Gran Canaria and began my placement at the school, I made it my goal to have at least one conversation with someone in Spanish every day. This could usually be accomplished by sitting beside a friendly teacher in the school cafeteria at lunchtime. Or intentionally coming out of my bedroom so I could start a conversation in Spanish with my flatmates.
You'll find that sometimes these conversations come about naturally. But other days you will have to go out of your way to have your daily conversation. For instance, talking to someone new at school or asking your bilingual friend if you can speak in Spanish together for practice.
4. Ask Teachers at Your School for Help
In my experience so far as a Language Assistant, I've found that the teachers at my school are very willing to help me practice Spanish. A couple of the bilingual teachers frequently teach me new words and are very patient as I try to practice, even though it would be easier for us to converse in English.
My tutor has also been extremely helpful. He offered on the first day of school to spend some time working with me each week on my Spanish. I am very grateful, as he has taken time out of his schedule to do this. He provided me with a children's book to read aloud and discuss, and we work through sections of a grammar and vocabulary book together.
My advice to you is to ensure you tell your tutor and other teachers that you are trying to improve your Spanish. You may be surprised at how willing they are to dedicate time to help you.
5. Read Children's Books
Since you're working in a school, you will have easy access to Spanish children's books. Ask your tutor or another teacher if there's a book that you can borrow. Try to choose a book that is challenging, but not too complex. Read through the book in short sections, writing down the words you don't know and searching for the translations. Then, try to produce an oral summary after reading each section, using some of the keywords that you've learned.
This will consolidate your learning and help to incorporate the new words into your vocabulary. Remember, if you don't practice using a new word after you read it, it likely will not stick in your memory!
If possible, it's also beneficial to ask a teacher to listen to you read aloud from the book and correct your pronunciation.
6. Purchase a Workbook that Matches Your Language Level
Yes, you can learn a lot of Spanish from daily conversations and random YouTube videos. But it may also be helpful to incorporate a more structured approach to learning grammar and vocabulary. Aside from enrolling in Spanish lessons, this can be accomplished by purchasing a book. The book pictured below, Spanish Tutor, was recommended to me by my tutor. I ordered this book online and I aim to spend a little bit of time working on the exercises each day.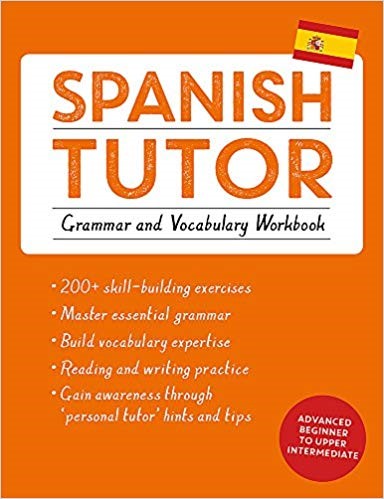 As this book is for advanced beginners/intermediate learners, some of the sections are a bit difficult for me. So, I ask my tutor about the more challenging topics and activities. This book also provides a great opportunity to practice writing.
7. Listen to Spanish Podcasts and Watch Spanish TV Shows
Listening has been an unexpectedly difficult part of learning Spanish for me. I expected that speaking would be the most difficult task for me, and that listening would be much easier. However, I've found that listening has its own unique challenges, including the speed at which people speak and the Canarian accent. Luckily, practicing listening skills can be one of the most fun aspects of learning a language!
Two resources I've been using to improve my listening skills are TV shows and podcasts.
TV Shows
The TV show I've found most helpful so far is called Extra en Español. It's a very cheesy series that is mildly reminiscent of Friends. But the plot of the show and the language used are very basic, so it's easy for a beginner to follow.
You can find several episodes by searching on YouTube. I watched most of the episodes using Spanish subtitles, so I could read the words as the characters spoke and pause the program when necessary to translate. I also made note of new words. This is how your listening skills can improve.
Podcasts
Podcasts are an excellent resource for on-the-go language learning. You can get your Spanish practice in while riding the bus, cleaning the house, or working out. The two podcasts I recommend are the Duolingo Spanish Podcast and Coffee Break Spanish.
If you are a complete beginner in Spanish like me, starting to learn the language can feel very overwhelming. Some days, you will feel like you've made so much progress. Other days it will seem as though you know nothing and communicating fluently is completely out of reach.
I am struggling with this myself and am still far from where I want to be with my language skills. But by following the tips above and cementing these habits as I continue my Meddeas experience, I believe I will be well on my way to proficiency in Spanish when I return home at the end of the year!