It is actually impossible to put into words how incredible my experiences in Spain have been.  If you are considering teaching English as a career, Spain is the perfect place to gain the skills necessary to be a successful teacher anywhere in the world. These are my top 10 reasons to choose Spain as a destination to teach as a Language Assistant.
1. Food
Anyone who knows me knows how much I love food. Spain is famous for having one of the healthiest diets in the world. It is also one of the most delicious. From mouth-watering paellas to the most delicious fresh-squeezed orange juice you will ever try, Spain has it all.
If you're living in Spain, you haven't actually lived until you've tasted gazpacho, ensalada de marisco, ensalada marinera, tortilla de patatas, huevos rotos, jamón, croquetas, tarta de abuela, mazapán, and roscón just to name a few. If you are a picky eater or have dietary restrictions, menus in Spain are very good at marking what is in each dish. That way, you can feel comfortable placing your order.
2. Lifestyle
Spain is a very social country. I can say confidently that it is impossible to be bored in Spain. I spend the majority of my free time sitting at outdoor cafes enjoying the sunshine and chatting with my friends about our week.
Friday and Saturday nights, cities and towns come to life. The streets are full of people meeting to go out to dinner, go shopping, or go to the park. There are many different websites, such as MeetUp, where you can search for different groups in the area that share similar interests.
In my case, I have joined a hiking club and gone to multiple different language exchanges. I go on so many adventures both by myself and with friends that I do not have much time to binge watch Netflix. Being in a different country, especially one as social as Spain is a great motivation to get up and out to experience new things and meet new people.
---
3. Festivals
Fire, fireworks, music, dancing, parades, performances… Spain has a variety of different festivals to enjoy throughout the year. This itself is a great reason to teach English in Spain.
This year, I was able to spend a long weekend in Valencia during their famous festival Las Fallas. There, each town surrounding Valencia creates a giant float that competes with the other floats created for the festival. The festival ends with a bang as the floats are lit on fire and there are fireworks displays all over the city.
Semana Santa (Holy Week) is also celebrated in a big way throughout Spain. There are processions in most cities and towns and beautiful religious figures are paraded through the streets.
Going to these festivals in the city or town where you teach is something truly special because you get to see your students walking in the processions or performing dances.
---
4. Schedule
Spain has an expression that they work to live, they don't live to work. This basically means that they value their time away from work and only work the number of hours necessary to live comfortably.
To go back to my favorite topic (food), the Spanish eating schedule is spectacular. You eat a light breakfast around 7 or 8am. Then, you get to enjoy second breakfast around 11 or 11:30am. You eat comida, which is the big meal of the day, between 2 and 3pm. After comida, you have a snack around 5 or 6pm. And then, dinner is between 8 and 10pm.
I am a huge fan of this schedule because you eat almost all day long. Plus, after the big meal of the day, many people enjoy taking a quick nap to reenergize for the evening.
5. People
The phrase mi casa es tu casa takes on a new meaning when meeting Spanish people. The amount of hospitality I have received from faculty, parents, and students is unparalleled.
My parents came to visit me and several Spanish families took us to restaurants and some of the city's highlights that we never would have known about or seen without their guidance.
Even when going to explore new cities, I have had taxi drivers give me a driving tour of the city and not charge me. Also, locals approached my friends and I to recommend places to see and go.
Out of all of the amazing people I've met, my favorite people are my students. Their excitement to learn English and hearing a chorus of hellos as I walk down the hallway at school is a magical feeling.
6. Travel
One of the best perks of living in Spain is having easy and inexpensive access to some of the best travel destinations in the world. Even if you are on a tight budget and cannot afford to leave Spain, Spain has a variety of incredible sites to visit.
Besides, Spain has an excellent public transportation system and they also have an app called BlaBlaCar, which is a rideshare program for long distances. (Like long-distance Uber, only cheaper).
---
7. Language
One of the most important reasons to choose Spain was the opportunity to practice my Spanish language skills. Spain is also a country where even if you don't have a great level of Spanish, you'll still be able to communicate with most people. The students love teaching me new words and phrases in Spanish after I teach them English.
8. Cost
Spain is one of the cheapest places in Europe to live in. Many fruits and veggies are grown in Spain. This means that the food is not only fresh but also inexpensive. Specifically, comparing Spain to the United States, the cost to rent an apartment is cheaper as is the cost of using public transportation.
Not to mention the fact that healthcare is free. As an American, I am still not used to the luxury of being able to enter a doctor's office when I'm sick and not have to pay a copay to be seen by a doctor.
The stipend that Meddeas provides is easily enough to live comfortably anywhere in Spain. You will still have some money left for going out with friends and travelling if you budget well.
9. Teaching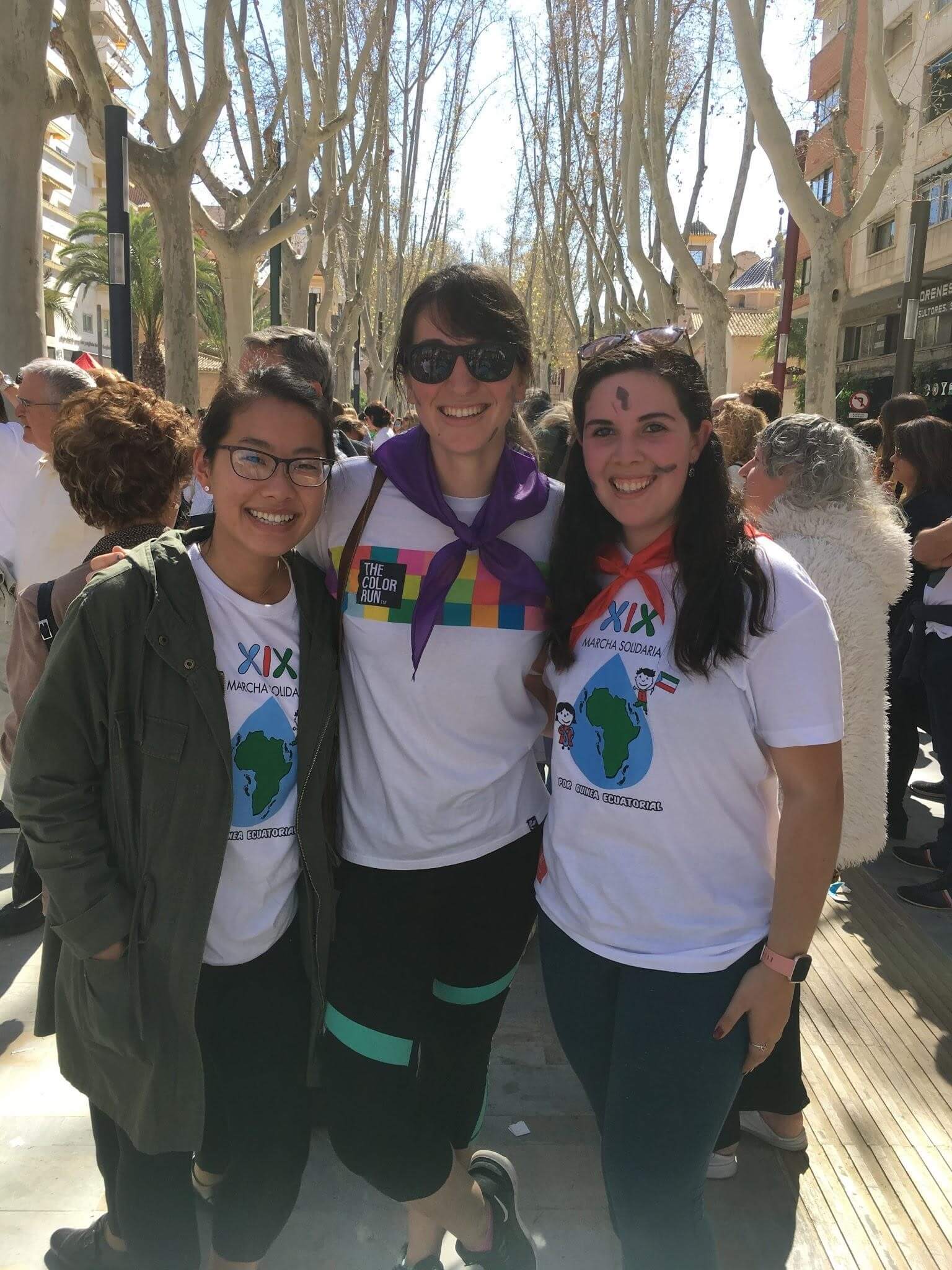 If you want to try out teaching, Spain and the programs that exist here are a great way to get experience if education was not your main area of study in school. There is a high need for Language Assistants. Teaching between 20-24 hours per week is a great way to get your foot in the door and determine if teaching is something you want to pursue.
The Language Assistant program works differently in different schools, but your main goal is to make your students passionate about speaking and practicing English. Planning lessons that let the students be creative and have fun has allowed me to form close relationships with the kids. I have enjoyed teaching more than I thought possible. I have also been able to support the students at fundraisers and events, which has been extremely rewarding.
10. Future
One of the questions the students (and family back home) ask me the most is what I want to do after I finish this year. The great thing about teaching in Spain through Meddeas is that you acquire certain skills throughout the year that make you an ideal candidate for a number of positions.
Perhaps, the most obvious two are flexibility and improvisation. Being able to adapt to different situations and challenges is a skill that is valuable in any professional career you could want. You also learn how to change a lesson depending on the reaction your students have. One of my favorite lessons was one I had planned that got completely derailed when, at the beginning of class, my students asked if we could just talk about life instead.
Teaching in a foreign country, especially a non-native English speaking country like Spain, incorporates a variety of different skills and makes you a more appealing candidate (and person). If you want more, check these 10 funny reasons to choose Spain to gain international experience.