All Meddeas participants have several key things in common. To begin with (and most obviously), we are all in Spain to gain relevant work experience. However, we also share a love of travel, an independent spirit, and a desire to learn as well as teach. Despite these commonalities, our work experience will likely be as diverse as our personal backgrounds.
Work Experience Abroad in a Highly Dynamic Role as Conversation Assistants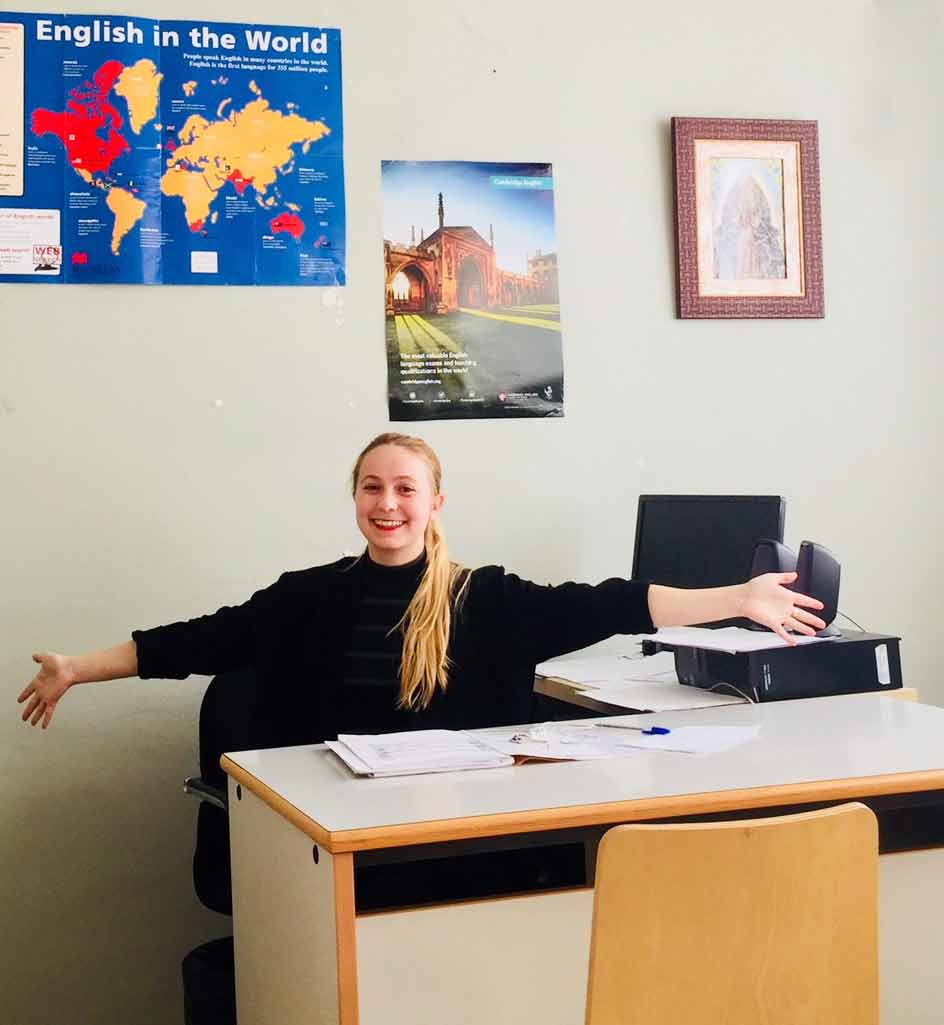 Our day-to-day roles are largely determined by the school in which we are placed and the region in which our school is located. Therefore, I offer the following overview of my work experience in Spain to prospective and future participants with the caveat that, while your time in Spain might closely resemble mine in certain aspects, your adventure will be unique in many ways!
The School: Main Aspect of this Professional Work Experience
Allocation Process and Support
Throughout my interview process, Meddeas staff asked me about different aspects of the placement, such as the students' ages, the kind of program or school, and my interests. I stated that I was comfortable to teach in any type of school Meddeas could offer, including non-religious and religious institutions. Given this, I was not at all surprised when I was offered a placement in a private all-girls Catholic school just outside of Seville. As it turns out, the Catholic environment at the school is comfortable and much more relaxed than I anticipated. Overall, my experience teaching and living in Seville has been one of the best of my adult life.
I have been very fortunate to have a supportive and welcoming group of teachers to cooperate with every day. Though my assigned tutor is my support for administrative purposes, all of the secondary English teachers offer me help and guidance whenever I need it.
My Role in this Work Experience in Spain: the English Corner
My primary role at my school is as the English Corner "teacher" for all the secondary level English courses. This basically means that I help all of the secondary girls (ages 12-18) on their speaking skills and help prepare them to take their Cambridge examinations at the end of the year. This preparation most often takes the form of fifteen-minute sessions with two girls at a time.
As secondary spans such a wide range of ages, I have about 18 different classes that I see in a given week, from first ESO (ages 12-13) to first Bachillerato (ages 16-17). Because each English class contains over twenty girls, I often only see one-third of a class each hour. Each English class is also working towards a different Cambridge exam, depending on the age and skill level of the girls. I design speaking lesson plans to mimic and adapt to the Cambridge speaking exam at its various levels of difficulty. Though fast-paced, I find my English Corner lessons to be exciting and enjoyable, and nearly all of my girls are curious and eager to practice English.
Other Activities I Get Involved in at School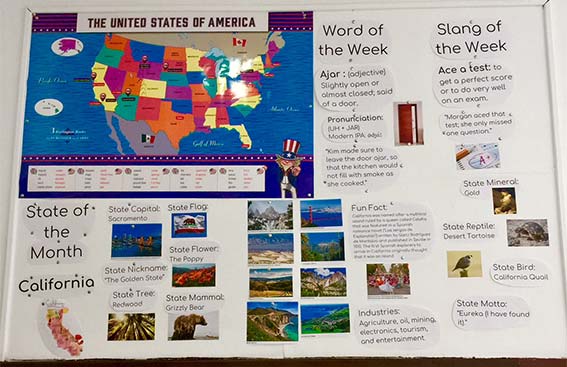 In addition to my regular speaking classes, I began teaching separately in January to Second Bachillerato level students (17-18 years old) on their speaking skills, specifically those girls who need to achieve a certain Cambridge English certification before entering university this fall. This trimester, I also began teaching a review class once a week for twenty students in first ESO who did not pass their first evaluation exam in English. During each class, we review basic English structures. The aim of each class is to shore-up the holes in the foundation of their grammar understanding and help them build confidence.
In addition to these extra classes I occasionally fill-in as an English Corner teacher for the school's youngest students (five years old). We practice image recognition and vocabulary. If needed, I also help monitor classes during exams, design and put-up English teaching materials on the school's notice boards, and I help run the bus route that takes me and thirty students to and from the school each day.
Though some days at the school are more exhausting than others, the more effort I put into this work experience, the more rewarding and enjoyable my days are.
The Course: Training and Support during the Work Experience
The same might be said of the Expert in Bilingual Education (EBE) course that I and many other participants are taking as part of our work experience program. Depending on the program placement we accept with Meddeas (Advanced, Graduate or Speakers), we'll enroll in one of the different university courses. As I accepted a placement in the Advanced program, I'm taking the EBE, while participants in either the Graduate or Speakers take a TEFL course as part of their work experience.
How the Course Can Help Participants in their Daily Tasks
However, where the course is concerned, I would encourage a more balanced approach than just the rote investment of your time. The EBE course is the most demanding of the options Meddeas offers, but it can also be very helpful to your role if you take the time to tailor the work in such a way as to augment what you are already doing in your school.
Like all the course options Meddeas includes in the work experience, the EBE course requires us to complete bi-weekly assignments, which we upload to the Universitat Internacional de Catalunya website for grading. The due dates for these assignments are usually followed by an online tutorial session during which we check in with our course tutor, discuss our work experience in our respective schools, and share any questions or concerns we have with the rest of our course group.
Tutorials and Assignments Help Me Plan Lessons
The tutorials, at least for my class, have been very low-stress meetings, designed primarily as a way to discuss and share teaching ideas and seek support if we need it. The assignments themselves range from short essays to lesson plans, and each takes me anywhere from three to five days of steady work (four hours per day) to complete (take into account that I work rather slowly and currently do not have a functioning laptop). Though some of the lesson topics are quite academic and abstract, the language and teaching theory we have been exposed to is current and interesting.
I have been able to use the information I've encountered through my work on the course to brainstorm activities and teaching approaches to implement in my classes. Any activities or ideas I cannot use now in the work experience I plan to save for my future as a teacher. Though the assignments aren't always directly always applicable to my classes, it has been easy to take the work I've done and develop it into activities that are suitable for a number of class levels and teaching situations.
Is the Workload in the Course Reasonable?
As a recent college graduate, I have found the work on the course to be manageable and not nearly as stressful as I anticipated. Overall, the pace of the course and its content help me contextualize my work experience here in Spain and understand how my efforts fit in to the greater world of teaching English as a foreign language. Given all this, I am very happy that I decided to do the advanced program. I enjoy having regular assignments to complete and I feel that I am constantly learning something new. Even with the time the course requires, I have been able to give several private lessons, travel often, and simply enjoy Seville on many weekends.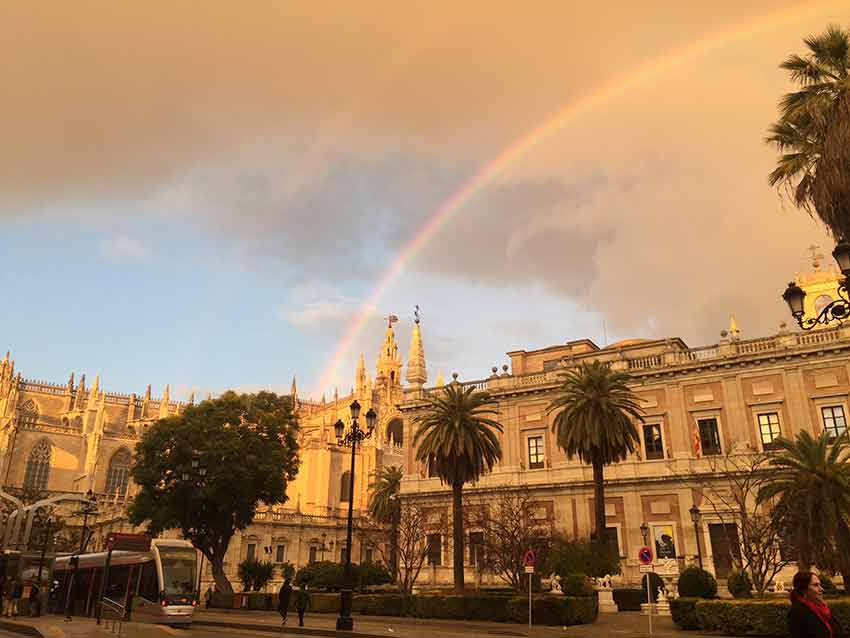 I would recommend the EBE course to other Meddeas participants, with one stipulation: I am a person who genuinely enjoys school. I like reading and writing; it makes me feel engaged and productive in a work environment. So, if that doesn't sound like you, be honest with yourself. Do you love teaching? Are you interested in Education and/or teaching? Do you think this might be (in some form) what you want to do with the rest of your life? If the answer is yes, the EBE course is a good decision. If the answer is no, don't worry. You know yourself best. Choose the course option that seems like the right fit for you and the year you imagine spending in Spain.
Explore, Engage, and Have Fun to Make the Most of the Work Experience
I love my teaching experience and life in Spain, which has a lot to do with the staff and students I see every day. Seville is a wonderful city, but having visited many other towns in Spain, there are many places I would have been glad to be placed. Teach hard at your school and put the necessary effort into your chosen course, but don't forget to look around and enjoy everything you have at your fingertips as a young expat in Spain. Explore, engage, and have fun! Let your life as a traveler abroad energize your role as a conversation assistant and student.
2017/18 Posted by Maggie F.
If you enjoyed this post about how this work experience abroad runs, don't miss out the following articles: