For me, the most exciting part of moving to Spain was undoubtedly Spanish food. Since the moment I stepped off the plane I've been determined to try every variety of tapas; to explore the cafes, restaurants, and markets of Madrid; and to sample everything from the cheapest street food to the edgiest international cuisine. Little did I know that as a Meddeas Language Assistant I would have the unique opportunity to acquaint myself with a decidedly niche corner of the Spanish culinary culture: school lunch in Spain.
School Lunch in Spain vs. School Lunch in the US
My memories of cafeteria food from public school in North Carolina are less than glamorous. I recall plenty of fish sticks, powdered mashed potatoes, questionable ground beef, and the occasional cup of bright green sherbet.
But at Colegio Santa María del Bosque, lunchtime is a very different experience. Every meal consists of two courses, served family-style in huge metal bowls. Some aspects of school lunches in Spain are similar: the never-ending noise, the barely contained chaos, and the long tables reminiscent of those I used to sit at as a student.
However, at lunchtime in Spain, there are no lines, no trays, and definitely no neon dessert. Not to mention the fact that a team of sweet, smiling women prepares and serves the food. Indeed, these women take pride in feeding the army of kids and teachers that descends upon them each day; a far cry from the perpetually grumpy lunch ladies of my childhood.
What Are Spanish School Lunches Like?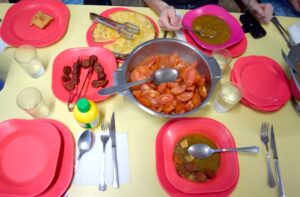 On my very first day of school, I sat down with the other teachers at a table across the room from our students. I was entirely unsure of what to expect, as it was my first school lunch in Spain.
Within a few minutes, one of the lunch ladies brought out a heaping dish of paella: steaming yellow rice dotted with carrots, peas, potatoes, and tender pieces of bacalao (cod). Of course, this wasn't the same as the version I'd eaten in Barcelona at a touristy waterfront café; no cast iron skillet, no plump prawns, no mussels or clams, or sprigs of parsley. And I'm sure it bears little resemblance to the authentic delicacy you can only truly taste in Valencia, where the dish originated. But on my first day of teaching, after trying to keep a group of exuberant eight-year-olds under control for an hour, this paella could not have tasted any better.
Typical School Lunches in Spain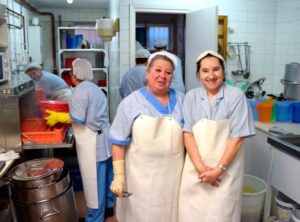 In the months that have passed since that first day, school meals in Spain have rarely been disappointing. Generally, I enjoyed the food laid in front of me each afternoon. I have feasted on the simplest "tortilla española" in all its greasy delight; and warmed my soul with "solferino" and "crema de calabaza", thick and hearty vegetable soups. I have stuffed myself with salty slabs of thinly sliced pork atop lettuce and tomatoes drowning in vinegar and olive oil. I have been introduced to "cocido", the classic "madrileño" comfort food consisting of broth, noodles, stewed chickpeas, garlicky cabbage, various meats, and chunks of pure fat. And I have ended every meal with a piece of fresh fruit: apples, bananas, mandarin oranges, plump green grapes, and slices of juicy melon.
This alone is enough to forever cement in my mind the superiority of school lunch in Spain. Who needs powdered chocolate pudding when you've got good old-fashioned produce?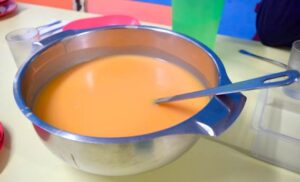 The Not-So-Great Side of School Lunch in Spain
Of course, there have been a couple of dishes that even I—a fairly adventurous and open-minded eater—have regarded with suspicion. Hard-boiled eggs covered in mayonnaise? Maybe not. Pasta salad with tuna and black olives? Not my personal favorite. And there's no doubt that one would enjoy some of the typical Spanish dishes at my school more if they didn't prepare them in industrial-sized batches.
However, I am determined to give all of it a try, at least once. If there's anything I've learned from my time in the comedor (cafeteria), it's that sometimes the most delicious and satisfying meals are truly found in the most unexpected of places. Namely, on plastic plates at a kid-sized table in an underground room filled with dozens of shouting children. ¡Buen provecho!