What is a Meddeas Language Assistant?
And How Can They Improve your Foreign Language Teaching Methodology?
Meddeas' Language Assistants are recently graduated Spanish teachers, qualified to teach in European schools. They hold a University degree in Pre-School Education, Elementary Education or any University degree and the Master in Secondary Education issued by a Spanish University. Furthermore, all of them have at least one year of teaching experience in Spanish classrooms, from their teaching practicum completed during their last year of study. They work with students using different methodologies in small groups, to help your students improve their pronunciation and control of Spanish.
You will be always able to communicate with them in English, since they are independent English users (minimum B2 CEFR / TOEFL iBT 84-109 / IELTS band 6 or equivalent level), besides having a native-level of Spanish.
Introducing Language Assistants to your School will Jumpstart your Spanish Language Program:
• This experience boosts students' foreign language level, improving their accent, diction, and grammar.
• By having a novel resource in class that will increase your academic results in your language immersion programs. The school stands out as an innovative and competitive institution.
• Parents and community members will recognize the distinguished language program of the school. They will appreciate how the school continues to provide them with new and improved teaching methodologies.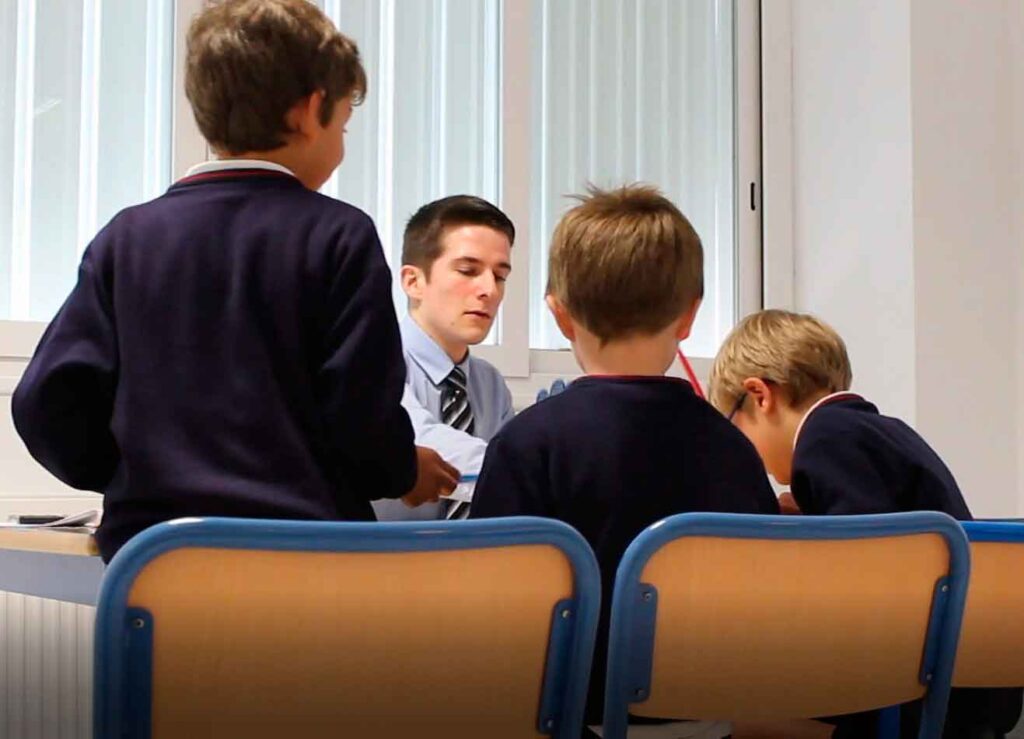 All said, Language Assistants are the single most important language immersion resource you can employ in the classroom to level up students' Spanish oral skills while acquiring knowledge about Spanish culture without leaving the classroom. This cultural perspective is priceless. Students really enjoy their time in the classroom and that increase their interest in foreign languages.
Hiring a Spanish Language Assistant at your school will give you the possibility to host qualified Spanish teachers to support the school's Spanish Department with conversation practice. These Spanish teachers will help other teachers, as an aid, in classroom or extra-curricular activities.
This will be a unique opportunity to:
Host qualified Spanish teachers who will globalize the classroom
Learn from a native Spanish speaker
Enrich the multicultural environment of the school
Promote intercultural exchanges
A Language Assistant is not a Teaching Assistant
In fact, It is More than That!
A teaching assistant is only supposed to support the teacher delivering the lessons with a complementary task and is never independent while doing so. In contrast, Language Assistants work mainly on their own. They have to use their initiative to find resources and prepare their own engaging and fun activities or games to motivate their students.
They also focus primarily on speaking skills. Nevertheless, Language Assistants will also follow their tutor's general indications and guidelines, but they might teach a group of students on their own or lead activities alongside a qualified teacher.
Some of their duties at your school could include: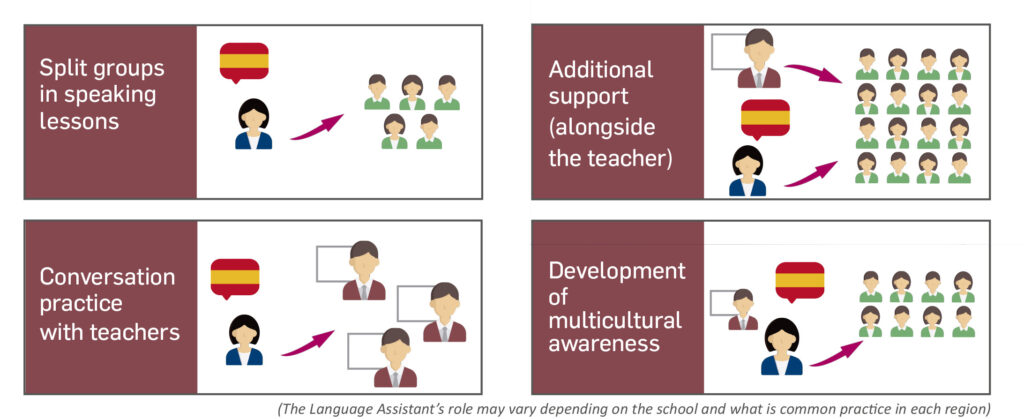 Duties of the Language Assistant
Additional Support:

any kind of activity delivered by the teacher and/or by the Language Assistant, while both are present in the classroom. The Language Assistant will take the initiative to prepare activities, and not simply shadow the teacher. They collaborate with the teaching staff to create teaching materials and plan lessons.

Spanish Conversation practice:

with reduced groups or split groups: activities delivered by the Language Assistant on his/her own to encouraging the oral practice of the Spanish Language

Acting as a role model

for correct pronunciation and grammar.

Guided Spanish conversation

with school staff to improve their Spanish accent or diction.

Cultural Education

: explaining the culture of their home country to their students.

Foreign Student Support:

helping and assisting students whose mother tongue is Spanish.
Meddeas' Language Assistants could be teaching at your school for up to 40 hours per week, with all activities included in those 40 hours.
Salary will be paid by the school and should be adjusted to the workload they will have. For a Monday to Friday, 40-hour workweek, we suggest offering at least a $1,600 net salary. As you might notice, the cost of having a Language Assistant is notably lower than hiring a regular teacher. Although Language Assistants have limitations (they cannot grade students or be in charge of a whole class as the main teacher), your students can benefit from all the advantages of having a native Spanish teacher in class.
Accommodation
Three Options to Choose from
These young teachers can live independently or the school may choose to provide accommodation with a Host Family or at a school Residence Hall. If the school decides to offer a Host Family or Residence Hall accommodation for the Language Assistant, meals and all accommodation expenses should be included. The salary can be reduced to cover these expenses.
We strongly suggest that families be linked to the school and appointed by its principal. They should host the Language Assistant on a volunteer basis. In return, they will have the opportunity to live with a native Spanish speaker, be exposed to a new culture, and improve the foreign language level of all family members, especially children.
Host Family Agreement
Language Assistants will take on the following agreement with regards to the family:
Certain 'Foreign Language Days' will be arranged (2 weekdays from Monday to Thursday + 2 out of every 4 Saturdays until 7.00 pm). On these days, Spanish will be the only language spoken. They will spend time with the family, interacting with its members through different activities, games or daily life tasks.
On 'Regular Days' they can choose to practice English with the family, travel around or do whatever they want. The aim is to consider them as another member of the family.
On Sundays and 'Regular' weekdays there will be a curfew set at 10 pm (12 am on Fridays before a 'Foreign Language Saturday'). There is no curfew on Saturdays or the other two Fridays.
Why Meddeas?
More Than 25 Years' Experience in Foreign Education Programs
These Language Assistants can be directly hired by your school because they are participating in a J1-visa program, as interns or trainees. They can stay in the U.S for one academic year. Through our LearnSpain Program, Meddeas is in charge of the participant' recruitment and their visa application process. Participants are selected in Spain following schools' requirements. Also, they will receive pre-arrival orientation and continuous support while in the U.S. Your school can easily hire native Spanish Language Assistants without worrying about the paperwork or selection process.
Demanding Selection Process
Our demanding selection process and our expertise contribute to the recruitment of highly qualify graduates in Education. At Meddeas we have developed our own methodology to successfully select educational professionals, conducting more than 3,000 interviews for more than 400 schools every year. Meddeas is a Spanish organization founded in 2011 by professionals with more than 25 years' experience in the education sector. We are present in seven countries and provide support to language immersion schools. Also, we are renowned for our Language Assistant programs. Every year, more than 700 recent graduates further their training and cooperate with schools as Language Assistants in Spain.
That is why we have launched our LearnSpain Program, from our U.S. Meddeas' Company, to provide native Spanish teachers to U.S. schools and to promote Spanish language education in the United States. LearnSpain is the fine result of Meddeas' strong links with educational institutions in the U.S. and its yeas of experience supporting language immersion teaching programs and investment in language learning.
How Can your School Hire Language Assistants?
You just need to send an email to info@meddeas.com and we will contact you to start the process.
It is that easy! Please note that available positions for this program are limited due to visa restrictions. Don't wait to get started!
If you would like to know more about our programs and its benefits, just email us to schedule an appointment for more information. We can provide references from U.S. Universities that recommend our programs to their students and Spanish schools that host Meddeas English Language Assistants.
For further information about the Language Assistant role, take a look at these blog posts: Language Assistant typical teaching day.