I have celiac disease, so I have to eat gluten free. When I moved to Spain to teach English as a Language Assistant, I was worried about how I was going to handle my eating habits. In this post I'm going to tell you my story about eating gluten free in Spain.
Having Celiac Disease in Spain
Moving to a different country is very exciting but can be intimidating at the same time! It can be especially daunting when you are unfamiliar with the local cuisine and have a food allergy. This is something I was worried about before making the move to Spain.
I unfortunately have celiac disease and cannot eat gluten. I also had only been diagnosed with celiac disease 1 year before heading off to Spain. So, I didn't even have this new diet completely figured out in my home country before trying to manage it in Spain.
This was a big concern for me when moving because I was not sure what type of options would be available for me. I was leaving a larger city in the US where there are almost always options for every diet wherever you go, and I was familiar with the supermarkets.
First Year in Spain
I spent my first year in Seville, a medium-sized city down in Andalusia, and am spending my second year in the capital, Madrid. When I arrived last year, I discovered that Spain is very conscientious of food restrictions and allergies which was a relief. I even found that I sometimes had more options in Seville than in the US!
In my second year as a Language Assistant with Meddeas, I came to Madrid. Here are even more food options, as it's a large international city. For any gluten free readers, I can share my experience here to hopefully put you at ease and give you the inside info on how to enjoy yourself in Spain without gluten.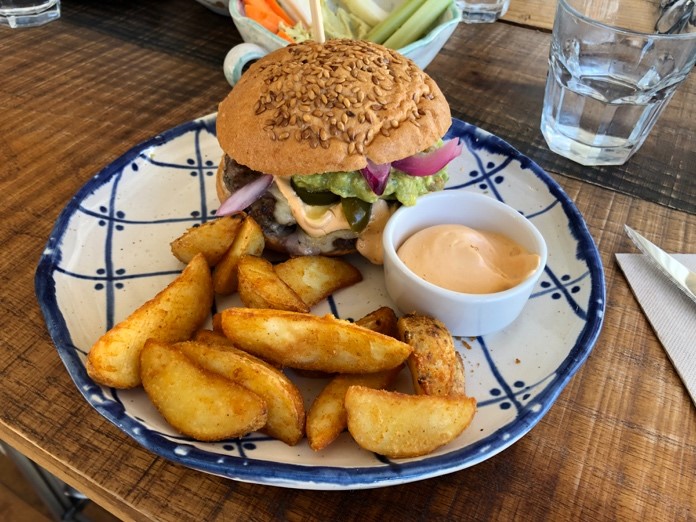 In Restaurants
If you do not speak Spanish yet, the most important phrases you will need to know when eating in a restaurant are:
–Soy celiaca/o, no puedo comer gluten.
I have celiac disease; I cannot eat gluten.
–¿Tiene opciones sin gluten?
Do you have gluten free options?
I found that many restaurants include the allergens in each dish on the menu listed right underneath. However, as people with allergies, we know it is always best to inform the waiter to make sure the kitchen staff is aware and avoids cross contamination. Many restaurants also have a separate menu listing their allergens if it is not already included on the main menu.
Even though Seville is a smaller sized city, I was excited when I discovered how many restaurants list the allergens but also have specific gluten free dishes. There are also traditional Spanish foods that I love that normally do not contain any wheat, such as: patatas bravas, paella, tortilla de patata, and more!
After the major lockdown, due to the pandemic, most restaurants have included a QR code to scan to view their menu online to avoid cross contamination with physical menus. This has been very helpful because the restaurants are able to change and update their menus more easily online. Which means they are also able to change and update their allergen information online to make sure everything is accurate and up to date.
In Supermarkets
There are two things to keep an eye out for in the supermarket which are:
-Sin gluten
Without gluten/gluten free
-Trigo
Wheat
Typically, this is listed in bold on the ingredient lists of foods. "Sin gluten" is the key phrase you should look out for on packaging when in the supermarket to make sure it is certified gluten free. Between the supermarkets Mercadona, Carrefour, Dia, Mas, and Lidl there are plenty of options for gluten free groceries! The brand Schar is a European company that makes the largest selection of gluten free food that I have found to be available in most supermarkets. They also have it in the USA so it was nice to grab something I was familiar with when first settling in.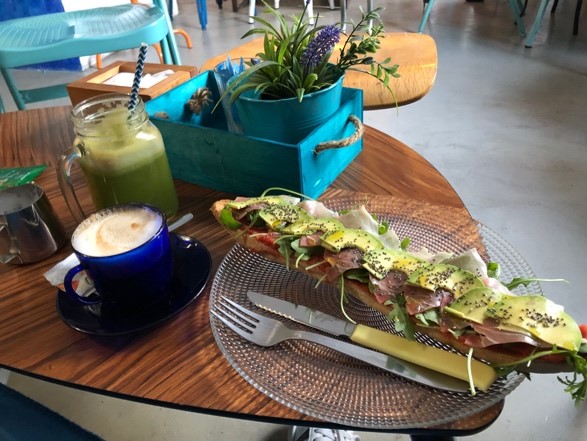 Find Me Gluten Free! App
This App has been a life-saver for me! It is an app where you can search for the closest restaurants near you, in cities all over the world! Other gluten free people using the app can rate and leave comments about these restaurants to give you insight on if they are actually 100% gluten free, the quality, and how informed the staff are.
It is more useful in larger cities, however I have found it to be useful in smaller cities as well. I have used it in Spain, France, and Belgium and found really great gluten free restaurants. It's really nice when you want to quickly find a place where you know there are gluten free options to eat. I would definitely recommend downloading this app if you haven't already.
My Favorite Gluten Free Restaurants in Seville and Madrid
I want to share two of my favorite places I have found in Seville and Madrid. It was difficult to choose only two but I wanted to narrow it down!
Seville: Bar Alfalfa
I could have eaten at this restaurant every day if I could! Not only do they have tons of gluten free options and all of their allergens listed, the food is both delicious and affordable! It is a small bar on the corner in Plaza de Alfalfa in the Santa Cruz neighborhood in Seville.
The staff is so kind and informative and they also have gluten free beer options! It is also great because they have traditional Spanish dishes and some signature dishes that are gluten free for you to try. And, of course, gluten free bread as well. I really cannot say enough about this place and brought everyone who visited me here to eat.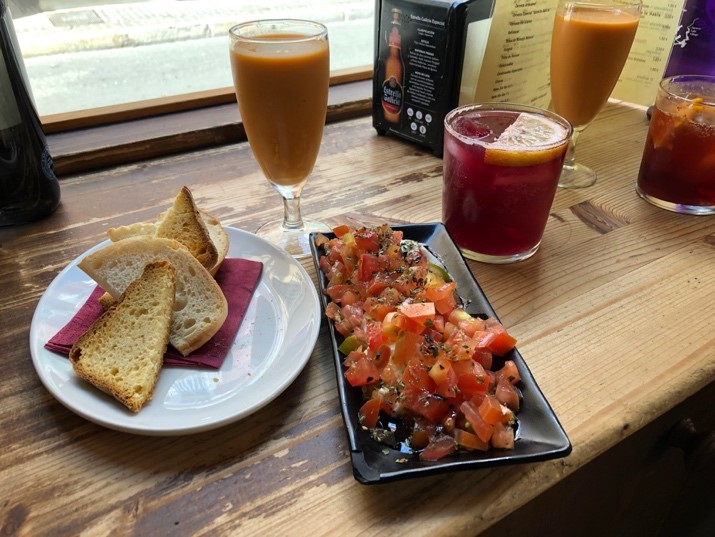 Seville: Al Solito Posto
This restaurant is located in Alameda and it was amazing. All of the servers are well informed about allergens and even give you a different color placemat if you cannot eat gluten. This way the servers know exactly what to bring you that is celiac safe. They have the most incredible rolls, pasta, and pizza. They have a ton of pasta options like tortellini, ravioli, rigatoni, linguine, and lasagna. I almost always had to have penne gluten free pasta because it's usually the only option and so was in love with all of the delicious options. I would almost always get the tortellini though!
Madrid: Solo de Croquetas
I had spent almost a year in Seville and could not find gluten free croquetas which are a Spanish staple. Once I found this restaurant in Madrid I could not wait to go! The entire croquetas menu and kitchen is gluten free! So, I did not have to worry at all about cross contamination or any mix-ups.
They even had Oreo flavored dessert croquetas! These used to be one of my favorite cookies and flavors for desserts and I couldn't have been happier to have a gluten free Oreo croqueta. I would recommend this restaurant to anyone whether you are gluten free or not.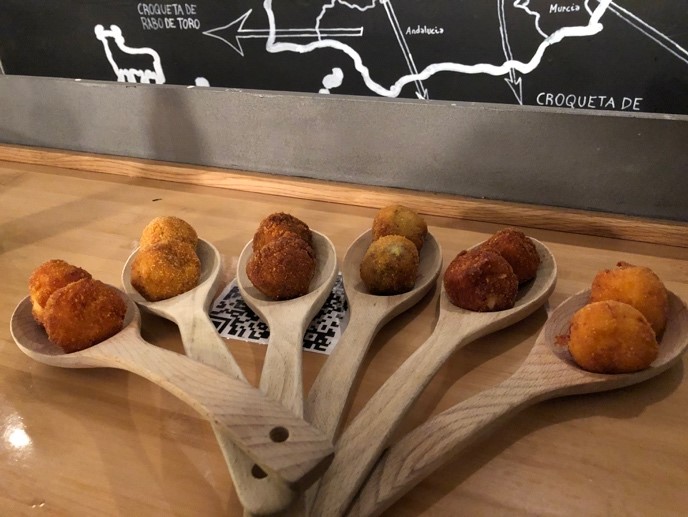 Madrid: Grosso Napoletano
This restaurant has a few locations in Madrid but only one is 100% gluten free (located on Calle de Fernando VI, 23). When I tell you this was the best gluten free pizza I've ever had I am not lying. I even went with a non-celiac friend who even said the pizza was as good as regular pizza! I think this has been the most difficult food to replicate well without gluten, but Grosso Napoletano does it extremely well.
As anywhere in the world, there are always going to be more food options in major cities, but I have visited tiny and large towns throughout Spain and I am almost always able to find something delicious to eat!
The most frustrating times are when you want churros with chocolate and there are few and far between gluten free churros in Spain. The only place I have found so far is in one place in Madrid.
While you can find great gluten free food anywhere, it is a lot easier with endless options in Madrid. There are a ton of gluten free bakeries and some cafes in Madrid. You can find some all throughout the city and I love being able to buy some fresh baked bread on my way home from work.
I hope this article helps you feel more assured that you will still find delicious foods during your experience teaching in Spain.