Cliché as it sounds, there is only one word to sum up my experience as a Language Assistant in Spain, and it's a strong and proud Andalusian "oooooooooooooléééé".
The year was full of triumph and encouragement for me and to this day I cannot believe how lucky I was to be placed as a Language Assistant in Andalucía, and especially Marbella. I am so grateful for all the incredibly welcoming staff and teachers in my school, along with the students and parents who really went out of their way to make me feel welcome.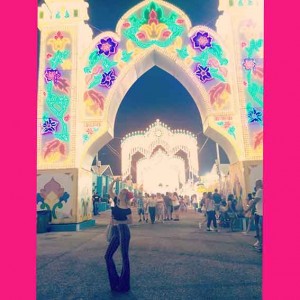 Andalucía, the Perfect Place in the World
Embarking on this amazing opportunity was indeed a difficult one. Landing in a foreign country where the language, culture, and people are completely different to my own is indeed daunting. But Andalucía really does seem like the perfect place in the world to start an adventure like my own.
The Andalusian people are truly overwhelming with bounds of kindness, helpfulness, pride and have the most amazing welcoming nature. From the kind cleaning lady in the hostel, who helped me understand how Andalucía is a different to the rest of the world (where the pace of life runs a little slower than the rest of the world), to the countless friends I made in my school, where good times and troubled times were shared daily.
The Language Assistant Experience
But besides from moving to Spain, the actual Language Assistant teaching experience was so much more rewarding. I always fancied myself as a teacher, but really becoming one overnight was super nerve-racking. In the end, there wasn't anything to be nervous about.
My first day was a whirlwind of new names, fun, and games. I was delighted to be placed primarily with the 2-5-year-olds, as they were incredibly cute and so much fun to work with. Play and stories through English was what most of my days consisted of.
Although it wasn't all fun and games, the school was incredibly driven to get the kids to grasp the English language and more so develop a love for it. I remember being so impressed with the tiny students who could tell me how old they were, the colours and animals in English. They were so intelligent and loveable that it really made my class an easy one. We played games, read stories, sang songs and even danced on a daily basis. It wasn't long until I fell in love with the children and I even got the opportunity to teach to the teens too.
Moreover, the teachers' room always had something to offer. If it wasn't filled with homemade cookies and cakes for students' or teachers' birthdays, there was always a funny or educational encounter. The staff always wanted to hear about Ireland and how different it is to Spain, and I was constantly asking questions about Andalucia's food, culture and language. I learned so much off duty at school and each person I spoke too was only delighted to share a story or joke with me.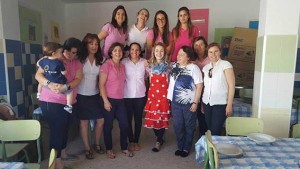 Spanish Kindness
Even on my last day, I was completely overwhelmed with everyone's kindness. I was leaving the school when a teacher called me back in to help her with box in the cafeteria. When I entered the cafeteria, I was met with a surprise farewell party. Emotions really ran high and I spent the majority of the time crying with happiness.
I was showered with the most meaningful gift I could ever have imagined, and of course plenty of party food too. I then recognised that I had in fact made a difference in the school with all of the nice comments and well wished from my colleagues. It was a real privileged to be part of "Las Chapas" as a Language Assistant and I will never forget the wonderful friendships and adventures I had there.
In turn, I learned so much about myself during my experience in Spain, the teaching role as a whole was incredible and I can definitely see myself pursuing this as a career. The beautiful Spanish language (even the quirky Andalusian accent where the "s" completely disappears), the culture, where sitting on the street with a "café con leche" for a few hours is nothing to feel guilty about, and even the oooooooooooooléééé! I learned all about the phenomenon that we know as "tapas", which are always meant to be shared with friends. And I almost got the hang of the passionate Flamenco, but with two left feet, I left this art form to the natives.