When I signed my 9-month agreement to be a Language Assistant with Meddeas, I knew I was signing away the ability to spend time with loved ones during important events. Traditions are of paramount importance in my family: Grandpa always carves the turkey on Thanksgiving, Christmas morning is spent opening presents with cousins, and the Easter Bunny leaves Reese's Cup eggs in our Easter baskets. However, during these 2 years abroad, I've experienced feeling homesick on holidays and found ways to overcome it.
Feeling Homesick on Holidays: My First Thanksgiving Abroad
My first Thanksgiving abroad happened while I was living with a host family in the Basque Country. I was afraid that I would be overcome with sadness, as I couldn't participate in our typical American traditions. However, I learned quickly enough that it's possible to be abroad for the holidays and still have a great time celebrating important events: you just have to be creative and open to new possibilities!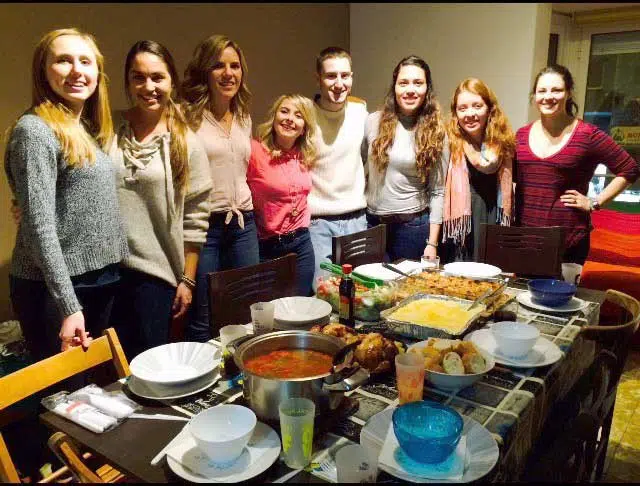 Clues for Living Abroad During Holidays
Here are a few tips and tricks that I've learned not to feel so homesick on holidays. After two years as a Language Assistant, I hope this list helps you have the best time possible while celebrating holidays abroad.
1) Feeling Homesick on Holidays is Okay
Being sad is normal, expected even. You've spent your whole life celebrating holiday traditions a certain way, and now you can't. But don't keep your feelings bottled up. Tell someone –your host family, your friends, your family members, your co-workers– and let them know that you are having a hard time.
Talking about holiday homesickness abroad will help you release any negativity. Then, you can channel your feelings productively into a great holiday celebration.
I dealt with my homesickness at Christmas time by writing about it and expressing my feelings over coffee with my expat friends. It helped me so much to talk to people who were also feeling the same way. After that, we planned what we could do to make our holidays in Spain more fun.
2) Surround Yourself with People During Holidays Abroad
The worst thing you can do during important holidays abroad is to isolate yourself. Find people to share in your festivities, and find a way to make it special. This is especially important if you are living independently (no host family), because you are not automatically surrounded by people. Make a plan with your friends, neighbors, and roommates to team up and create some fantastic memories.
I lived independently this year and gathered all of my friends around my tiny dining room table for a Thanksgiving potluck. We talked about our traditions from back home, shared what we were thankful for, and had an amazing night. I didn't spend that time thinking about how much I missed my family; instead, I spent it chatting and laughing and eating.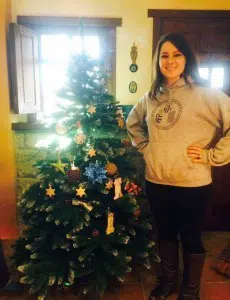 3) Involve Your Host Family to Avoid Feeling Homesick on Holidays
If you live in a host family, you have an automatic support system. They chose to have you live in their home so that they could experience something different. Show them how wonderful your culture can be!
I lived with a host family during my first year with Meddeas and they put together a show-stopping Thanksgiving feast with a Basque flair. They invited their extended family and we ate traditional food, talked about what we were thankful for, and spent a lot of time laughing. I felt so welcomed, loved, and appreciated for being different.
4) Be Open to Alternatives while Celebrating Traditions Abroad
Remember of course that your celebration won't be the same, but it can still be great. New traditions and not-quite-authentic food aren't the end of the world. The important thing is to have fun being together with the people around you. In Spain, for example, turkey is outrageously expensive, so at both of my Thanksgiving feasts we had roast chicken instead. I knew it wasn't the same, but the effort and the fun were worth the change in fare.
5) Keep in Contact with Your Family
Everyone's family relationships are different, but you should still let them know that you miss them. Call or Skype them while they are having their own celebrations and tell them what you're doing. They will be thrilled to know that you are having a great time celebrating in your own way while abroad. I got to say hi to my parents, my extended family, and even my dog on Thanksgiving and Christmas. My cousins loved passing the phone around and talking to me one by one, and I loved it too!
6) Learn about Local Traditions Abroad
Thanksgiving is, of course, not a celebrated holiday in Spain but Christmas and Easter definitely are. Each region has its own traditions too, which are beautiful and interesting to learn about. In the Basque Country, the Olentzero is a mythical coal miner who brings presents on Christmas morning. The cagatiò reins supreme in Catalunya on Christmas Eve: it is a wooden log that children beat with a stick so that it will "poop" presents.
No, I am not kidding.
Every town has Easter processions as well, which I happily watched while munching on a chocolate bunny.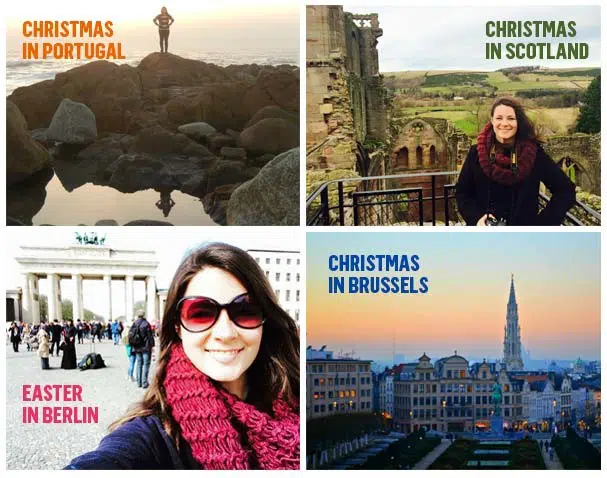 7) Travel if You Have Time Off
Christmas and Easter in Spain come with long breaks, giving you the perfect opportunity to get out and explore the rest of Europe. This was very helpful when I dealt with homesickness because I focused on getting from one place to the next and seeing as much as I could. The first year I did Portugal for Christmas and Comunidad Valenciana for Easter. The second year I did Belgium and Scotland for Christmas and Germany for Easter.
8) Remember how Lucky You are to Have this Opportunity
Many people live their whole lives without ever getting the chance to leave their countries. Although you might experience homesickness while teaching abroad, you have the possibility of seeing, doing, and learning so much.
Take advantage of it! Don't spend all your time wishing you were home when there's so much to be experienced in the place where you are.
The most important thing about spending a long time abroad is learning how to do things for yourself. You take charge and decide how you're going to live, without the influence of the people and the culture that you've been around your whole life.
You can take the easy path and wallow in homesickness, or you can take advantage of the situation and make some wonderful new memories. Through trial and error, I've figured out the way that works for me to incorporate my culture into the place that surrounds me. It's no piece of pumpkin pie, but the result is delicious!