As a recent graduate, I was overwhelmed every time I clicked onto a job board to research what to do after college. There were so many options, but none of them seemed right for me. I had studied in Northern Ireland for six years, at Ulster University. I asked myself: "just finished college, now what?" Did I really want to dive straight into a job in finance or marketing? What about all this travel I had talked about doing?
Why Do You Want International Experience? A Good Question When Considering What to Do After College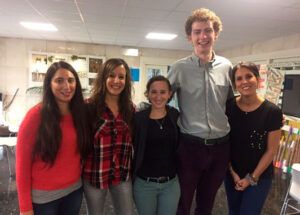 One morning, I clicked on the university job board and clicked onto an opportunity I had dismissed several times before: "Immediate Start! Teach English In Spain. Language Assistants In Spanish Schools". I was intrigued. All through university I had been told about the benefits of international experience.
"You will love it". "You'll make lifelong friends". "You'll see the world". "It will enhance your CV". Blah blah blah. It went in one ear and out the other as many lectures from the careers department at university did. (Sorry Brian)
Now it was different though. Now it was this or a job at home. It seemed like a good thing to do after university. I didn't quite feel ready to settle into a desk job for the next fifty years. After thinking about different careers after university, I applied to Meddeas. Much to my surprise and delight, I got accepted. I began my journey in Spain on the 27th September; in a brightly lit, densely packed lecture theatre in Barcelona for the induction meeting.
Truth be told, I haven't looked back. And I've learnt a few lessons already…
Patience is a Virtue: A Good Lesson of Life After Education
Anyone who has ever taught or spent more than a couple of hours at a time around children will tell you this. Patience is a virtue. It's also something that gets better the more you use it. Living in Spain after graduation has forced me to become more patient with myself and with my students.
When I arrived I didn't speak any Spanish and the first three months of studying were so much fun. Everything was new and everything was exciting. "I can say patata!" "I can say azul!" "¿Cómo se dice awesome en español?"
My enthusiasm for learning new words was seemingly never-ending. Then it ended. Studying Spanish started to become a challenge as I felt my learning speed shift from fifth gear all the way down to third. Still learning, but slower.
After a couple of weeks moaning to a friend about my perceived lack of progress, he gently reminded me, "Adam, be patient. You wouldn't be this frustrated with your students, would you?"
No. I wouldn't. I wouldn't be so impatient with anyone else. So why was I being so unkind to myself?
Lesson one: Patience is a virtue best applied to yourself.
Second Lesson Learnt After College: Some Days You Don't Know How You'll Do it, and Every Day, You Get it Done
Every day is different. That's true for everyone. But when you're teaching, your routines and expectations routinely go out the window. This forces you to think independently.
I've stopped counting the number of times I've slaved over a lesson plan, only to have missed an integral problem point and end up freestyling the last twenty minutes so I can meet my learning objectives.
Each day I show up to class and I've got twenty plus young men and women, looking to me. Looking to me to teach and entertain them for an hour. Some days it's brilliant. Some days it's tough. But every day, it gets done. And that's only when I'm in class!
Outside of the school challenges don't stop. They don't stop being overcome either. I've set up my bank account, got my NIE, got my haircut and had regular conversations with the grannies in my apartment block. All things that scared the living daylights out of me. And I did them all. You can too.
Lesson two: You've got the power of independence if you want it.
Fake it till You Make it
Confidence is a funny thing. You have none. Then you have loads. A while after, you have a bit. Then you have a bit more. Sometimes after that you have none again.
For me, confidence comes in waves. Each time I ride that wave it gives me a little bit more confidence. A little bit more belief that I can overcome whatever challenge is put in front of me. This applies tenfold when you live and have this kind of experience in a foreign country because every challenge has the added hiccup of a foreign language.
Here's a secret though: people want you to succeed. The patience, kindness, and understanding that the strangers I've met have shown to me are so inspiring. I've gone from someone who has a strong opinion without many directions to someone who can take on strong opinions and provide direction.
Being a teacher forces you to listen to a variety of praises and complaints. Then give instruction regardless. As a business recent graduate, this ability to provide clear direction is invaluable.
Lesson three: Confidence begets confidence
Teamwork Makes the Dream Work
Without the work and support of those around you, your own efforts will probably fall short. This is something important to bear in mind when applying for jobs after graduation. You can't do it all alone and with this programme, you don't have to!
From the pre-departure care package outlining Meddeas' expectations and answering any lingering questions, all the way through to today, when I got a lovely reminder about my options for the forthcoming year. Someone from the team is always available to answer your questions. And that's only one part of the team.
My colleagues and mentors at school have been so incredibly supportive. As a first-time Language Assistant, I was pretty lost my first day of school. My first week was spent shadowing. Getting an introduction to the students and answering their many questions.
What's Ireland like? Amazing Do you have any siblings? One sister Where do you live? In a hostel Do you speak Spanish? No Do you have a girlfriend? No
Ready to teach them all by yourself? No. Not quite. No problem.
My entire time here has been one of trial and error. Finding out what we're capable of and then pushing for a little bit more the next day. It's actually more like A/B testing. My colleagues here in school make every day an absolute joy and I really couldn't do it without them.
Lesson four: Anything is possible when you have the right people there to support you.
Putting the Lessons Learnt After Uni to Work
My long-term goals involve self-employment and non for profits. But regardless of what your goals are, the lessons you will learn from a work experience like this will improve you as a person. Every business venture requires good people.
You'll have your patience tested and rise above it.
You'll become independent living in a foreign country without lifelong friends or family to fall back on.
Moreover, you'll gain the confidence of performing in front of a class on a daily basis.
And you'll recognise that you can't do it all by yourself and you're only as good as those you're surrounded by.
What you do after college and what you choose to do with the lessons is up to you, but give yourself the opportunity to learn them.
Posted by Adam D.
If you enjoyed this post about what to do after graduation, don't miss out the following articles: