A Language Assistant has to spark his or her imagination and find fun ways to teach English to the students. In this post I tell you some of my crazy ideas to stimulate the love for the language in my little students. This is a Language Assistant's task!
Creativity, Activity, and Reaction
Strangest is the name of this terrifyingly friendly monster that lives in a hammock by the sea. His best friend is a walrus that showed him how to swim one day. The two have had some incredible adventures together, according to the story that accompanies the model of Strangest and his habitat.
He is the brainchild of a group of 4th graders in my art class at Col.legi La Vall, an all-girls Catholic school in Bellaterra, Barcelona, where I'm a Language Assistant. The girls spent three weeks brainstorming, planning, and bringing trangest to life as part of our 'Creactivity' station. Yes, you read that right: the station's name is a play on the words creativity, activity, and reaction.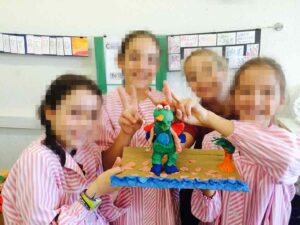 The 'Creactivity' Station
At the beginning of class, the girls receive a prompt, to which they must react creatively through activity. Strangest was born through this prompt. "Choose a land animal, sky animal, and water animal. Combine them into one super animal. Then, make a model of it and its habitat using materials from around the studio." Thus, the girls must make a drawing of the super animal and its habitat, give it a name, make the animal and the habitat, and then write a story about the animal.
The 'Creactivity' station is my responsibility and my absolute favorite part of being a Meddeas Language Assistant. There is nothing more rewarding than watching my students work together, in English, to create something amazing. Most of all everyone can participate, even those with lower levels of English. To see them having fun and learning at the same time makes my loaded Tuesdays worth it.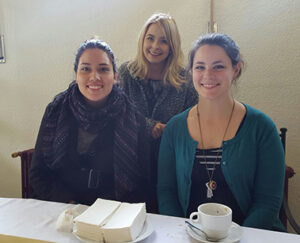 A Typical Tuesday at School
A typical Tuesday for me is long and fulfilling; exhausting and gratifying; challenging and creative. The day starts at 6:30 am, and it takes two metro rides, one long train ride, and a 20-minute walk to get to school from my apartment in the Gràcia neighborhood of Barcelona. At 9:00 a.m. we start STEAM, an experimental education project with the goal of showing 6th graders how science, technology, engineering, art, and mathematics come together to solve big problems. STEAM is new for us but thus far, the girls are surprising us with their insight!
Our much-needed mid-morning snack break comes at 10:45 am. Coffee, sandwiches, and fruit are served near the cafeteria. We use this break to breathe for a minute and recharge for the two long art classes that fill the rest of the day.
After coffee, the first two groups of 4th graders have art with us (in English of course). They are divided into smaller groups that are each assigned a station. The stations include clay, drawing, engineering, color lab, projects, storytelling (manned by Angie, a fellow Language Assistant), dismantling (handled by Megan, another Language Assistant), and of course "creactivity" which is run by yours truly.
Every station has rules and protocols and procedures. We keep track of things like behavior, worth ethic, work quality, and cleanup using a sticker chart.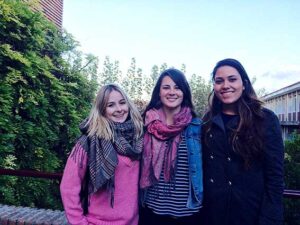 Creativity: the Language Assistant's Task
There is a break between the two art classes during which we have lunch (always fantastic, by the way). Our final class of art with 4th grade goes until 4:30 p.m. After that, we leave school drained of energy but bursting with purpose and accomplishment. Then it takes me an hour and a half to get home—quite a journey but absolutely worth it. Sometimes I have just enough energy left to go grocery shopping and make dinner. Other nights I simply make myself a sandwich and call it a day.
Tuesdays are the busiest days, but it's a fair price to pay for the sense of achievement and usefulness that I feel. I get to watch the creative process, which has changed the way that I do things and think about life. Without creactivity, experimentation, and taking risks, the world (and subsequently my life) would be very boring and fraught with problems. Creativity is also an essential component of the Language Assistant's task. In the 'creactivity' station, I teach my students how to creatively solve problems and I teach myself worlds more. They never cease to amaze me with their thoughts and I strive to emulate that in my own life.
On Tuesdays, we are never bored!