Spanish Christmas as a Meddeas Language Assistant
Around the world, there is a notable change in the air when the calendar is turned to its final page. Temperatures grow colder, school breaks for a few weeks, and shops become more crowded. In many households, lights are strung, trees are fluffed, and ornaments are placed. People grow jollier, and a spirit of giving sparks within them. Parades are held, Christmas tunes seem to haunt every corner, and sweet treats can be found in hoards.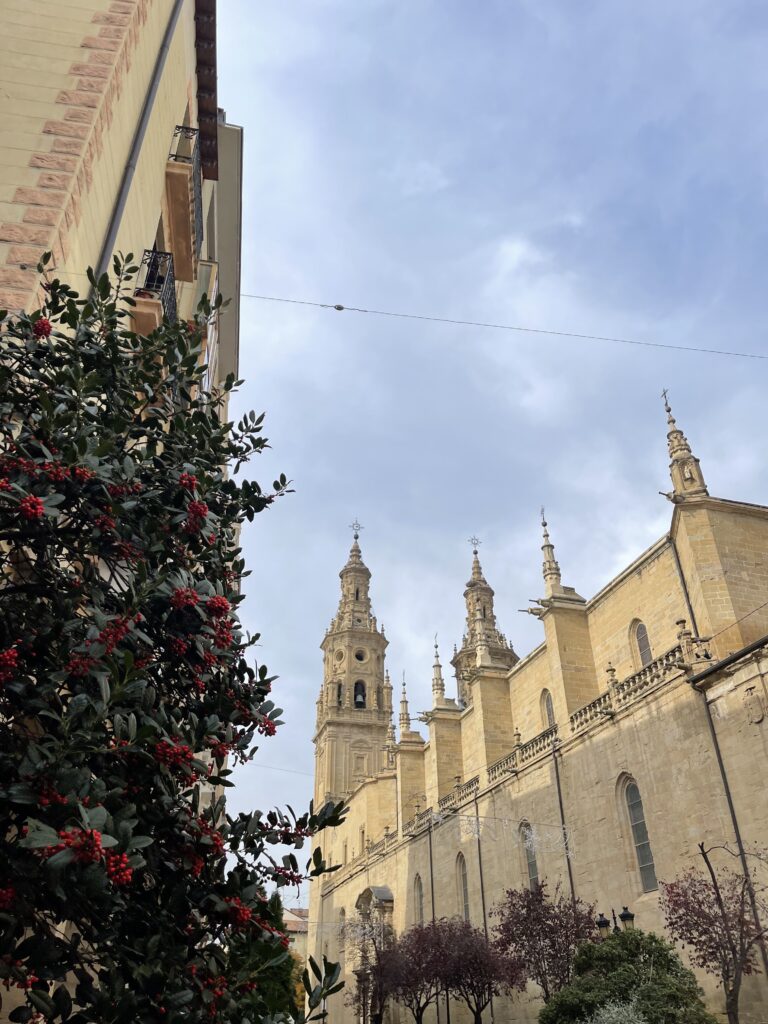 Where I'm from in the United States, stockings are hung on fireplaces, everyone takes a turn ringing the bell for The Salvation Army's annual holiday donation campaign, and we all pray for a white Christmas (in Alabama, that only happens about once every 30 years, but we can dream). There is something so special about seeing the holiday season unfold in your home. But, over the last year and a half, I have also seen what joy can come from watching the holiday season unfold in an entirely new country and culture.
Spain is overflowing with traditions and cultures, all unique to its many regions. Christmas celebrations are no exception. Children keep their eyes peeled for Papá Noel to bring presents, but also for the Three Kings, clad in their royal garments on January 6th. In some places, presents come from a man named Olentzero or even from a wooden log whose bowels deliver the day's gifts. Sweets like turrón and polvorones are devoured. A bean or a figure is pulled from roscón de Reyes cakes. Fuet is chopped, soups are stewed, and grapes are prepped for the 31st. Lights are switched on in old towns of cities. Larger-than-life Christmas trees are donned with tinsel and baubles. Elaborate Nativity scenes starring María, José, and Jesús steal the show as decoration in homes.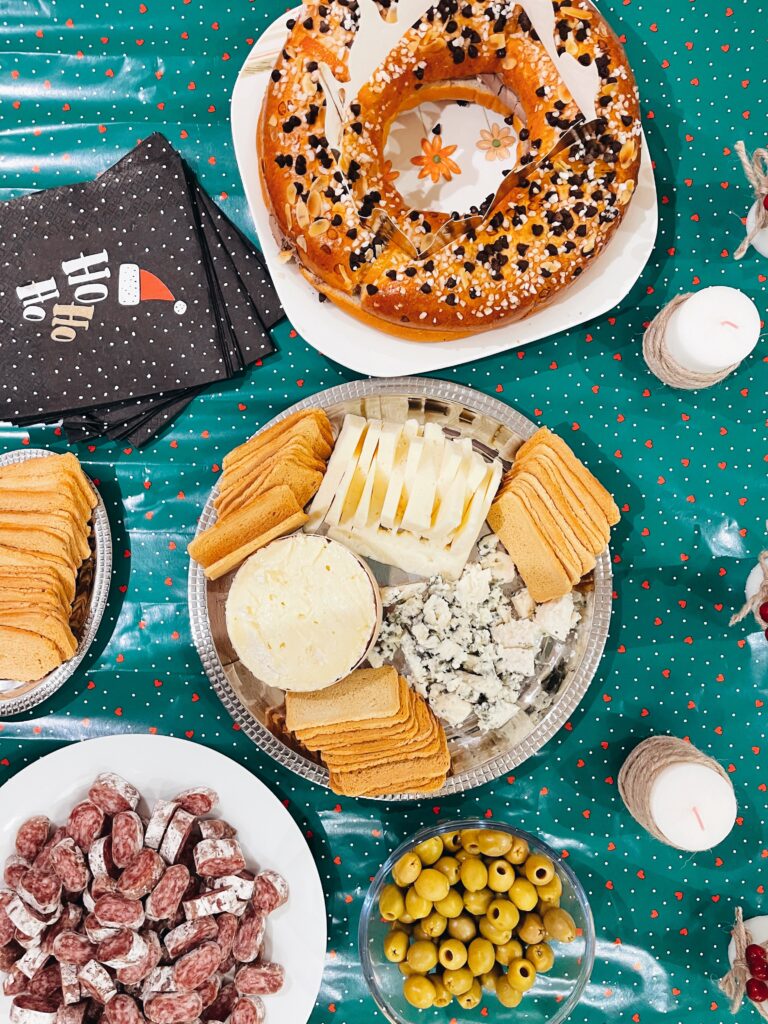 Spanish Christmas Traditions
Although there are hundreds of traditions surrounding Christmas in Spain, here are a few that I've come to enjoy:
Christmas Nativity Scenes (in Spanish el Belén)

The "reason for the season" is front and center in Spain. Christmas markets like La Fira de Santa Llúcia in Barcelona boast booths upon booths of intricately painted figures to be included in your home's Nativity scene. The Holy Family, the Three Wise Men, shepherds, and various barn animals are the usual characters in these detailed scenes. Decorations like moss, sand, and greenery typically decorate the surroundings of these scenes. In my school this year, there was a competition to see which class could create the most unique and inspired Nativity scene. My favorite was a Foottball-themed one, fitting for my students' excitement for the World Cup.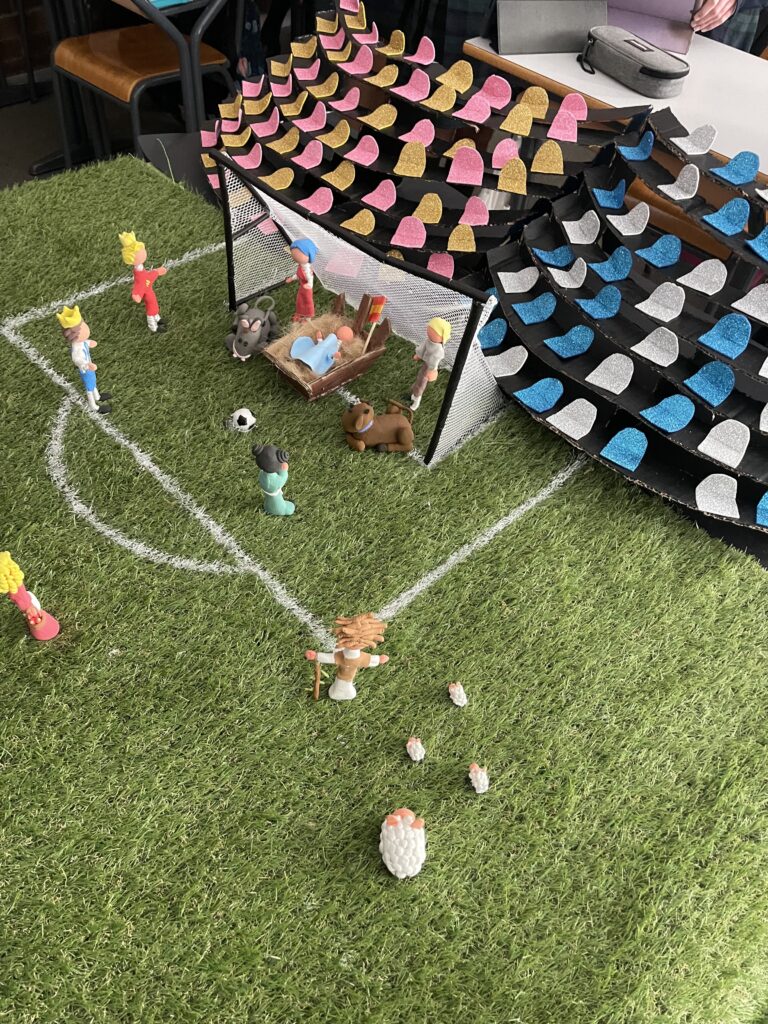 Christmas Sweets (in Spanish, Turrón, and Polvorón)

If the yearlong available churros and chocolate aren't enough to satisfy your sweet tooth in Spain, the Christmas treats undoubtedly will. Turrón, whose roots are found in Moorish heritage, is the sweet of choice for many in Spain during Christmastime. There are many types of turrón to sink your teeth into. Typically, they are a nougat-like consistency and contain flavors like almond, honey, chocolate, and rum. Polvorones are cookies, similar to shortbread. They are powdery and almost melt when you take a bite. These crumbly cookies have been a staple in Spanish households for centuries.
El Tió de Nadal (Cataluña)

One of the most unique Spanish Christmas traditions, which certainly draws a few eyebrow-raises from first-time visitors to Spain, is el Tió de Nadal. Tió (uncle in English) is a log with wooden legs and a face painted on the front. He is usually clad in a wool blanket and hat. Tió appears in houses early in December. From there, families "feed" him orange peels, dry bread, and beans. He is well taken care of in the hopes that he will provide presents to the children of the house. When the day comes, children hit Tió with sticks and sing a jaunty song with lyrics including the phrase, "caga, Tió," which literally translates to "poop, uncle." In most homes, Tió will "poop" out small treats like turrón, candy, and fruit.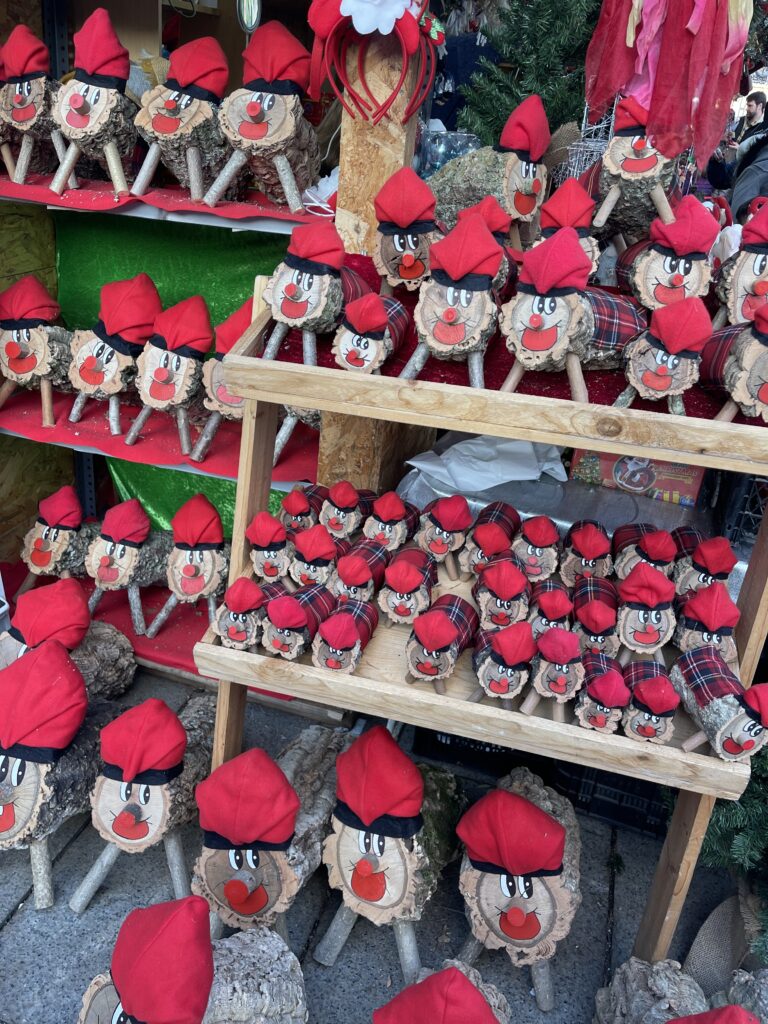 Spanish Christmas Lottery

Around Christmas, every corner seems to advertise the Spanish Christmas lottery. Vendors are selling tickets, and everyone is vying for a chance to win the jackpot. Instead of the weekly drawing of the Lotería Nacional, which uses balls to signify the winning numbers, two huge drums contain all the numbers of purchased tickets. Your ticket could be a number between 00000 and 99999. Numbers are drawn from the massive drums, and winning numbers receive prizes leading up to the jackpot that has been as large as €400,000.
Christmas Carols (in Spanish, Villancicos)

While Mariah Carey's "All I want for Christmas is You" seems to haunt the ears of those all over the world during the Christmas season, it is Spain's villancicos that are traditional in the country. This form of music has traditionally been performed as a cappella. It was most popular during the Renaissance and is now synonymous with the term "carol" around Christmas. Some of the most popular songs are "Los Peces en el Río", "Canta, Ríe, Bebe", and "Vamos, Pastores, Vamos".
Three King's Day (in Spanish Día de Los Reyes)

The Three Wise Men, as we know them in the US, take a starring role on January 6th each year. These three royals can be seen carrying their famed gold, frankincense, and myrrh and parading around towns on Epiphany, January 6th. Melchior (Arabia), Caspar (the Orient), and Balthazar (Africa) are represented in a variety of ways in these colorful celebrations across Spain. They even bestow gifts to children in some households on this day.
It is on this special celebration that the Three King's cake (in Spanish Roscón de Reyes) is enjoyed. Traditionally filled with cream and topped with fruit, this cake also holds special surprises inside its fluffy ring. Figurines are often placed inside the cake and have meaning to whoever picks one out. While this varies, some familiar characters are the Baby Jesus, a king, and a bean. The eater who discovers Baby Jesus or a king in their piece is typically recognized as the "winner" who gets to don a crown or win a prize. The eater who draws the bean is not as lucky, as they must pay for the cake in the coming year.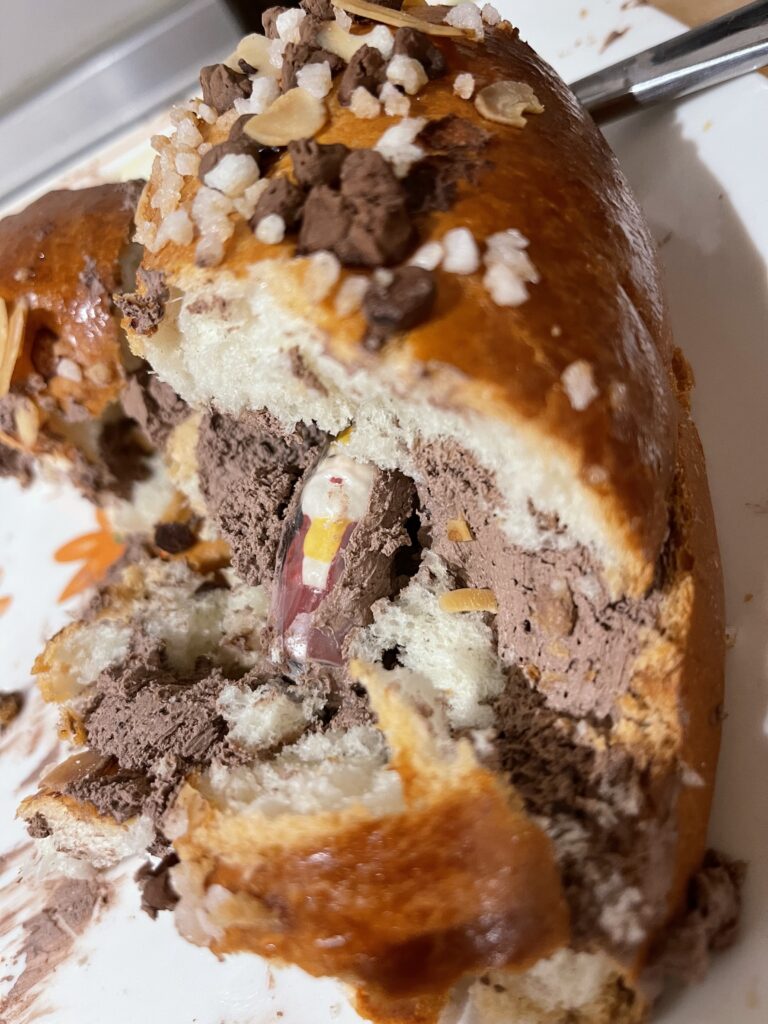 ¡Feliz Navidad! Bon Nadal! Eguberri on! Merry Christmas!
My name is Anna Shay Wasden, and I am a second-year Language Assistant. Last year, I enjoyed a year in Pamplona, where I explored the natural beauty of Navarra, tasted the region's famed wines, devoured pintxos, and topped it off with the annual San Fermín festival in July. This year, I am placed in Barcelona, where I love discovering the unique Catalan traditions, viewing Gaudi's creations, trying tapas, and meeting people from all over the world. If you have questions about becoming a Language Assistant or want to follow along on my journey, follow me on Instagram or Tiktok at @ShayAnnaEnEspana. You can also have a look at my Youtube video where I explain my experience in Spain teaching with Meddeas.