My name is Shane and I am an American from Chicago, a place with almost no similarities to Spain. I finished my studies in Carthage College, WI, in 2016 and I didn't want to jump right into the crazy American working world. Living in Spain and teaching in a school as a Meddeas Language Assistant seemed like a much better option!
What Was I Doing While Living in Spain?
This academic year I lived in Girona, Spain. Girona is 70 kilometers from Barcelona, 40 kilometers from Costa Brava, and 200 km from the Pyrenees mountain range. This city has the best restaurant in the world, numerous historical sites, and absolutely charming people.
Girona is a good place for those who enjoy the outdoors. There are many trails and streets that are perfect for running or riding a bike. The wonderful food, charming people, and incredible scenery create a unique atmosphere, unlike any place I have visited.
During the week, I was speaking English to primary students in Colegio Bell-Lloc. Students would come to my office and I would help them learn English. I focused on verb tenses, pronunciation, and basic grammar. This is the "teaching experience" portion of the program (and that it felt so good). I taught exclusively in groups of two students for a maximum of fifteen minutes. The kids loved coming to see me and I loved being able to help them.
When the weekend came, I explored as there are plenty of tourist attractions in Spain. Meddeas provides a grant to live in Spain that allows us to travel while we are not teaching English. I often found myself at a beach, on a mountain, or in a city!
What to See in Spain: Girona and the Pyrenees Mountains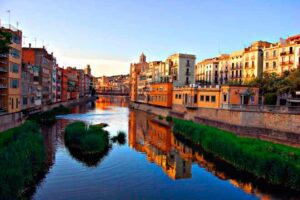 Girona provides dozens of buses that go to Costa Brava. Costa Brava is the coastal region of Catalunya that stretches 60 km until France. The coast is a wonderful place to escape to if you ever feel the need to get away from the city life.
The Pyrenees Mountains are only a 90-minute drive away from Girona. If you enjoy skiing or snowboarding, this is the place for you! My host family and I went on a four-day skiing trip that I will never forget. For the first time in my life, I dealt with being too warm while I was snowboarding! (The majority of ski resorts have student discounts that I recommend taking full advantage of.)
Top Cities in Spain: Sports in Madrid and Barcelona
If you like to exercise and you plan to travel to Spain, you will love it here. Even in bigger cities like Barcelona and Madrid, exercising is no problem. In Barcelona, I recommend running/walking along the water or going to Parc de la Ciutadella. In Madrid, Parque de El Retiro will take your breath away!
Barcelona and Madrid are incredible cities of Spain. A lot of Spanish people prefer one city to the other. This is partially due to the massive rivalry between the cities two football clubs and political issues. However, while you are in Spain, try to visit both cities. You won't regret it!
International Traveling from Spain
Another luxury about living in Spain is being able to travel to other countries. While in Spain, I traveled to Rome, Amsterdam, Paris, and Ireland. The public transportation in Europe is inexpensive and easy to maneuver. I loved each city but I was always excited to return to beautiful Spain!
Girona has an airport with a lot of great flights. I have a lot of friends in Europe, which really helps cut down the cost. I went to Rome to visit a few friends, stayed for 3 days, and the entire trip didn't cost more than $200. There are flights to Africa for less than $50 and I have been to the south of France multiple times as well!
One Video I Made on Living in Spain
I could have written a whole book about my time spent in Spain. Instead, I finally decided to make a video on my experience of living in Spain for a year.
I must admit that I am not a big fan of pictures. In fact, I despise them. Family pictures, posing for pictures, looking at pictures and taking pictures. "Everybody say cheese!" I'd rather not! I prefer keeping the memories in my head and saving them for a later time. Video, on the other hand, is something that interests me. Videos reveal more information than pictures and generally leave the viewers more satisfied. My mother, like most mothers, was extremely curious about her son's new life in Spain. I could have sent her 1000 pictures and she still would have had more questions for me.
The main reason I made this video was to get young people like me to live in Spain for one year. Moving to Spain or taking a trip to a new place with new people can, and most likely will, change your life. Anyone with an open-mind and a passion for helping people would enjoy this experience. I also made this video to get my lovely mom to stop worrying about what I was up to.