"A day in the life at Zalima" tells the story of a typical teaching- ESL-day as the native English language assistant at my school. Zalima is an educational institution situated in Córdoba, in Andalusia, that offers Bachillerato and a variety of Vocational Training Courses. It thus encompasses a wide range of student needs and abilities, as well as opportunities for creativity teaching ESL classes. In fact, the particular nature of my school is the main reason why I wished to tell this story.
How I Ended Up Teaching ESL: A Little Presentation
I am a recent Modern Languages graduate from the University of Southampton, UK, and a born and bred Londoner. Following an enriching experience as a Language Assistant in Almeria on my year abroad; I decided it was time to come back to Spain after graduating. Therefore I started investigating ESL teaching programmes in Spain and discovered Meddeas. I am very keen on a career in education and foreign language teaching in particular. I started my placement with Meddeas in January 2017, and have been thoroughly enjoying my experience at Zalima ever since.
The English Native at Zalima Teaching ESL Students
Zalima is a semi-private educational institution situated in the historic Jewish Quarter of Córdoba, in Andalusia, in the south of Spain. It offers both Bachillerato, the British equivalent of Sixth Form and A Levels, as well as a wide range of Vocational Training courses, such as Finance and Administration, Early Years Education, and so on.
My Tasks while I Teach ESL Abroad
From the start, I have been teaching ESL to whole groups. I've also designed lesson plans and objectives with the guidance of the class teacher; focusing on various skills in language learning, including oral abilities, encouraging further exposure to the English-speaking world, and working to generally motivate students.
In terms of Bachillerato, I have not only been in English classes but also Philosophy, Physical Education, and ICT, which has allowed for exciting opportunities for the use of the English language. In English, I have had the opportunity to design my own ESL lesson plans and activities; as well as use online resources, to focus on a variety of competencies, particularly grammatical ones, as well as spoken production and interaction, and therefore complement their learning with the main teacher.
How to Teach ESL in Specific Subjects (Philosophy, P.E., ICT, Finance, etc.)
Philosophy Presents Particular Benefits Teaching ESL Students
Philosophy enhances the acquisition of vocabulary and spoken interaction, due to the thought-provoking and argumentative nature of the subject. Not only have we had the opportunity to debate, present arguments, and create projects on topics such as English speaking countries, International Woman's Day, and the use of technologies in class, but also to discuss how to debate and give speeches.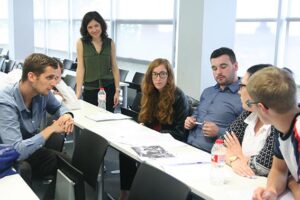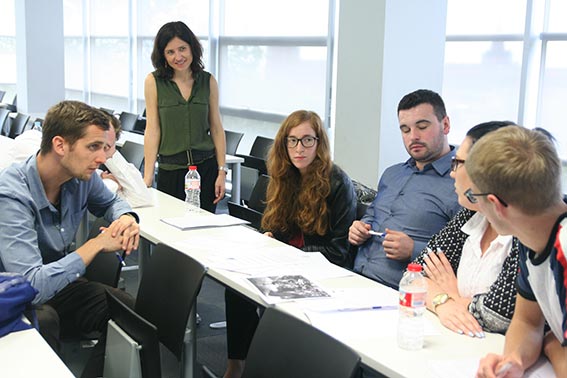 Teaching ESL through P.E. Lessons
In P.E, I have also had the freedom to create lessons on the content given in the theory side of their classes, including topics such as feelings and body expression and healthy eating.
Teaching ESL Resources in ICT
As for ICT, my functions are directly related to the Erasmus + school project. We have collaborated with other schools in Europe on the topic of the value of new technologies in language learning. In these classes, I would help students with their projects and teach aspects such as journalistic language. I also worked alongside colleagues, translating documents and creating activities for the convention held at our school in March.
Teaching ESL: Lesson Plans in Vocational Training
As for Vocational Training, I have taught in Finance and Administration, Secretarial Studies, and Early Years Education. These students had very specific needs. In terms of the first two, my focus was on developing oral abilities, using the Cambridge B1 framework, as well as working on Business English. Examples of activities include group work creating companies and pitches for products, writing CVs and cover letters, and so on. In terms of Early Years Education, my classes focused on the acquisition of didactic vocabulary in English whilst developing teaching skills and language learning activities appropriate for Early Years.
The Video about My Experience Teaching ESL in Spain
As stated before, I have been teaching ESL in such a variety of courses and subjects. Thus I felt that it would be a great opportunity to try and show a day in my life in a video, that you can find at the beginning of this post. The idea was to go through a day with a variety of classes and projects.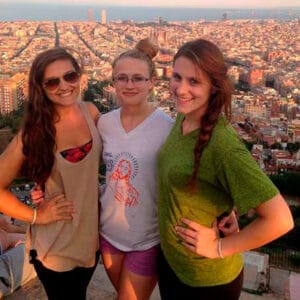 In terms of artistic objectives, I can't say that I'm very skilled in the use of cameras (!), but the idea was to use a camera angle in which the viewer could "walk in my footsteps" and see through my eyes. I hoped to make this a little more exciting and focus on certain aspects using slower and faster-paced captions, and with music that suited my geographical setting.
Through the different interviews, I hoped that others would have a clearer idea of particular responsibilities I have had, covering Bachillerato and Vocational Training. Last but not least, I hoped that the section on English Breakfast would add a little humour to the video. It was an initiative I set up following a positive discussion with the director whereby colleagues and I focus on English speaking during Friday break-time.
Take a glance at my teaching ESL experience in Spain and if you have any questions, write your comments below!