This is my plan to teach toddlers in Spain as an Early Childhood Educator.
Objective: Channel your inner Barney the purple dinosaur, Sesame Street Gang, and Dr. Seuss. These are your saving graces when you are dealing with toddlers.
Activities: Dance like Barney. Be as hilarious and goofy as the Muppets. Repeat curiously catchy rhymes from the Cat in the Hat.
Materials needed: Charisma. Attitude. Enthusiasm. Preferably a good natural rhythm to clap to everything.
Goal: Teach with your heart and soul. Also, don't let toddlers smell your nervousness with their sonar that detects fear. All toddlers and little kids possess this. Teaching English to toddlers in Spain as an Early Childhood Educator requires planning, organization and a good deal of communication skills.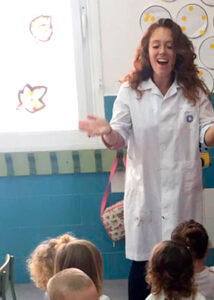 Teaching English in Spain with your Heart and Soul
Every day, I teach a different age group in the mornings and the afternoons, varying from 1-year-olds to 7-year-olds. You may wonder, how is teaching English in Spain to babies and toddlers? Just keep talking. They start crying, and I clap louder and make funny faces. This is usually the cure for crying.
Classes with 1 and 2-year-olds
Classes with 1 and 2-year-olds are similar to those awkward moments in life when you don't know what to do, so you ramble. That is exactly what this is: you just keep going until you reach an even keel. We do not sit in highchair desks and do flashcards, but I do sing at the top of my lungs and bust out my most exaggerated Hokey Pokey moves. Some toddlers may cry, some may resist, but at the end of the day running around in circles and pretending to fall down makes them giggle and try to run in a circle too.
As small as the gains may seem out paper, they are worth it. Seeing a baby start walking after you have tried to help him walk every single day feels like you just trained an athlete. A baby repeating a word you have sang to them over and over sounds like they might as well just have recited the periodic table. It is amazing. It will feel like fireworks in your brain from excitement that you taught them that.
Classes with 5 to 7-year-olds
Teaching English in Spain to the "older" kids, and by that I mean 5 to 7-year-olds, requires much more organization but is also just as rewarding. We clap, stomp, play catch, sing, and play games all day to create the most fun and enticing English environment possible.
I have realized it is very difficult to get the students to absorb concepts if the activity is boring. Maybe they cannot read that well just yet, but they can read "boring" written on your forehead if that activity doesn't have enough gusto. We have relay races, play instruments, dance, all the while having conversation as the major focus of the day.
Create comfortable environments where students feel encouraged to speak, especially in full sentences. I have found the way to get the best participation and comprehension from students is if you make it fun and make them laugh.
Use pictures, posters, and actions for all your words. Animate your face and vary your voice to make them laugh when you are doing something mundane like flashcards. Have them do scavenger hunts and anything with physical activity, even if it is just playing Simon Says. Your key to teaching the little ones is laughter, and with that laughter comes their trust.
Semi-private Schools in Spain
There are a few things about "colegios concertados", or at least mine, that is drastically different from any school I have experienced. Every educational institution I have attended was always a public, usually a moderately low-income school. My college as well was a public university.
Now that I am in a private Catholic school, I am flabbergasted by the amenities. There are so, so, so many perks to teach at my cole.
First, I live in a neighborhood where the school bus comes through so I am able to catch the bus with the kids. Adding that these are not yellow school buses, but luxurious travel buses that are used by the school.
Besides, staff gets free food. No prepping lunches and forgetting it on the counter! We have a small break at 11 am to drink coffee, juice, and eat some bread with jamón, then lunch at 1:30 with usually a variety of some type of fish, soup, salad, and fresh fruit. I am completely spoiled. Compared to other places I have experienced, this seems like they are practically hand-feeding me grapes and fanning me with a palm branch.
Also, the staff is also amazing. Everyone is very friendly and helpful. They go out of their way to help you in any way they can. I have full range of access to many resources to use in the classroom. The environment is a loving community of educators that collaborate while enjoying themselves and their jobs.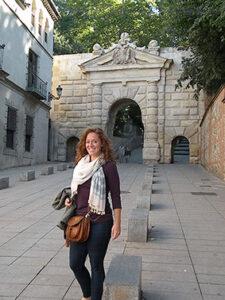 Cheap Expenses, Holidays and Walking
Aside from the tune Old McDonald being stuck in my head when I get home, there are many pros to this program. I live a few blocks from the beach where it doesn't go below 50F all year, and everything is very, very cheap. I have enough to cover my expenses and enjoy my stay in Spain.
There are many Spanish holidays. Additionally, there are many Catholic holidays as well so there is ample free time to travel and sightsee. After being here for less than two months I have already visited Madrid, Barcelona, Sevilla, and Granada along with attractions where I live in Málaga.
I live in a quaint town with absolutely everything that I need within walking distance, not to mention the beautiful Moorish architecture, hibiscus flowers spilling from every corner, and mandarin trees lining every street. I feel grateful that I have the opportunity to live in this laid back, paradise of a beach town I now call home…
So I'll clap my hands!