Before becoming a Language Assistant with Meddeas, I spent four years teaching in Philadelphia. The students I met there were impressive and inspiring in many, many ways. Perhaps one of their most impressive achievements was being mostly or completely bilingual. Many of the students I worked with spoke both Spanish and English completely fluently. Others spoke Spanish and were in various stages of learning English. After four months of living in Spain and training as an ESL Language Assistant, I can now appreciate more than ever their intelligence and capacity for great things. Because let me tell you, learning a new language, while worthwhile and world-expanding, is NOT for the faint of heart.
My Recent Eye-Opening Experience as an ESL Teacher (Intern) in Spain
I have been teaching ESL to children ages 5-8 here in Madrid, at a private bilingual school (Colegio CEU San Pablo Sanchinarro). The students here are taught around half of their daily subjects in Spanish, but also receive language instruction in English. They also take several core subjects (natural and social sciences) completely in English as well. By the time students here reach ESO (the Spanish equivalent of high school), they have the ability to speak, write, and read English at an impressive level.
Getting to be a part of students learning another language is exciting and challenging simultaneously. I have not formally had an ESL teaching experience before, so this year with Meddeas has prompted me to look into and try out many new teaching techniques and ESL teaching materials for helping language learners acquire vocabulary and grammar in fun, meaningful ways. Somewhat ironically, however, the most helpful thing to me in learning how to be an ESL teacher has been my continued journey to learn Spanish.
The First Weeks: Waking Up My English-filled Brain
I came to Spain with vague memories of high school Spanish and a couple of months of frantically using Duolingo to review vocabulary, as well as a tiny English-Spanish dictionary (which I have never once used, by the way. Save your money!). The disparity between practicing Spanish in the comfort of my home in the United States, and landing in Barcelona in late September with a serious case of jetlag and the accompanying culture shock, was intense.
Despite having a fairly good grasp of the basics of the Spanish language, as soon as I was in positions where I needed to communicate, it was as if all memories of vocabulary and sentence structure went out the window. I regularly found myself staring blankly at friendly Spaniards who had asked me a question and were patiently awaiting a response, while I thought, "uhhh….what?" (Not surprisingly, one of the first phrases I mastered was "¿puedes repetir?"/"can you repeat?"). The good news is that, in my experience, Spaniards are gracious and kind when it comes to language learning. They are willing to repeat themselves, more slowly, and wait patiently while your tired, English-filled brain, works to put together a response.
Speaking Nonsense (and Fun): "¿Puedo 'Mascotar' a Tu Perro?"
I'll never forget one of the first interactions I had in Spain. I was walking from my Airbnb in Barcelona to a restaurant and saw a man with a super cute dog. I'm a sucker for a cute animal (okay, ANY animal) and I really wanted to pet this dog. If I was in America, I wouldn't have hesitated to go up to the man and say hello and ask if I could pet the dog. But I wasn't sure if that was culturally appropriate here, and furthermore, I didn't have words for what I wanted. I remembered that the word for "a pet" is "mascota", and in my jetlag-addled brain, I decided that the verb for "to pet" MUST be "mascotar". So, with this (entirely incorrect) idea in mind, I marched up to the guy and asked if I could "mascotar tu perro".
This is nonsense and means nothing in Spanish, and I'm sure the poor guy was seriously confused. But he saw my intent, figured it out, and kindly gestured that I was free to pet the puppy. Later I looked it up and realized I had spoken nonsense. It was embarrassing. And, it was only the first of many moments where I would make mistakes or be unable to communicate properly what I needed to say.
Applying My Spanish Practice to the ESL Experience in the School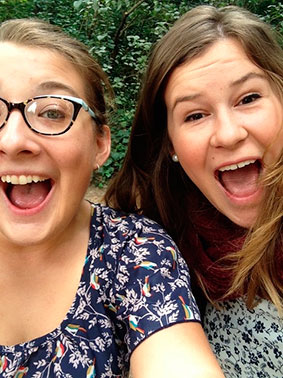 Fast forward two weeks to my first days as a language assistant in Madrid. Having ESL classes full of very young language learners was difficult at first; despite their enthusiasm and energy (and the Spanish teachers having given them strict instructions to listen to the language assistant!). The joy and energy of my students made teaching them such a fun experience.
However, the first few weeks here, I noticed a common problem my students shared. When they didn't know exactly how to say something in English, they were unwilling to try to say it. Experimenting with words and putting together phrases, even incorrectly, is an important part of the language learning process. However, many of them were unwilling to do so because of embarrassment or simple shyness.
It was difficult to teach or interact with them with this idea blocking them. Sometimes, I admit, I was frustrated. But then I remembered my experiences here in Spain. Especially that first month of consistently feeling confused and unsure of how to express myself; even for the simplest things. If I felt that way, as an adult who had studied the language previously, how must my tiny students feel?
The Ligh-Bulb Moment: Gaining Empathy
Having this moment of realization and empathy was so critical for me as an ESL teacher. Now, when my students are unsure of how to say something, I truly understand where they are coming from. Indeed I encourage them, instead of becoming frustrated or feeling helpless. This change in my perspective has changed a lot about how my ESL classes run. In fact, I know it will change how I teach in the future, when I eventually return to Philadelphia and teach ESL students once more.
The best part of this experience so far has been the grace and kindness I've experienced from Spanish people who encourage me as I fumble around trying to learn their language. It's amazing how much kindness and respect can be communicated, even when you don't have words in common. Smiles, gestures, and even grammatically incorrect sentences or phrases, can go such a long way. I feel like my experiences here in Spain, and with Spanish people, have given me the gift of true empathy for language learners: an empathy that I am trying to pass on, as I gain practice as an ESL teacher with Spanish children. Whether we are teachers, students, or both, we are all still learning, and need grace from others as we go along!
2016/17 Posted by Sarah G.
If you enjoyed this ESL teacher's training experience, don't miss out the following articles: