Teaching English is a never-ending challenge and I am constantly trying to think of fun and engaging ESL lesson plans to make the book work a little bit more interesting. If you are like me, then you regularly Google ideas for your speaking lessons. There are endless ESL resources, like books and websites with ideas, and it's hard to know where to start a lot of the time. Many other teachers and tutors have shared their lists of useful websites with ESL teaching resources with me. However, many of those sites are for subscribers only or contain too much information to even begin searching through.
Four Sites Bookmarked for ESL Lesson Plans
This is a list of four sites that I have bookmarked as I use them so much as an ESL teacher and thought I would share:
To Help with ESL Lesson Plans
Busy Teacher is an absolute lifesaver and is my 'go to' should I need a really quick lesson plan or pre-prepared ESL activities. There's everything here! In particular, there are some good gap fill song exercises which my kids seem to love. Just type in the artist you want and you can find gap fill sheets already prepared with additional discussion points of activities. I've also found fun bingo sheets, worksheets for kids, history lessons, texts for readings, ideas for crafts, the list goes on…
Busy Teacher has really good lists of activity ideas and English resources for teachers Say you need some inspiration for practicing the present perfect or activities to help with adjectives, there are short blog posts with a few great ideas which can then be adapted to your needs. Perfecto.
I've found that talking about the news and current affairs is a great way to get students talking. And the wackier the news story the better.
News in Levels is an awesome site with an extremely broad range of articles, themes, and ideas for lessons. Created purely for English language learning, the articles on this website are fun and relevant and range across 3 different levels. From "What to do in a Terror Attack" to "Sugar in Hot Drinks", there are hundreds of ideas here. I have often started with ideas from this website and used them to encourage students to share their opinions and have debates, which are good tools when you practice TEFL abroad.
Apart from these two, Eslbase can also be helpful as it includes, for example, worksheets and activities, classroom ideas, theory and methodology, and grammar.
To Use in the Classroom
My students absolutely love this. On this website, one can find almost any song with its video and the lyrics on screen. Some of the words are missing; so students have to listen and shout out the word for you to type in. A word of advice, check the video for the song you plan to do beforehand. Some songs are not as innocent as they may seem!
This is also great for improving your Spanish! I have listened to Bailando so many times now that I've lost count…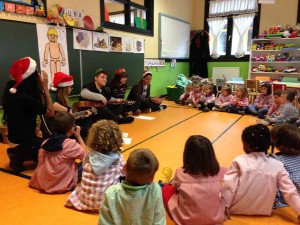 This site provides great interactive and fun ESL games for kids that you can play with students of all ages; although it generally seems to work better with the younger ones. Students can work in teams or as a class to answer questions on grammar, vocabulary etc. Things can get quite competitive but it is often requested in my class. I've found it helps students who are a bit quieter in class to gain confidence and get involved.
Of course, the last two are reliant on you having access to a whiteboard and a computer in your classroom. This is a luxury that not everyone has. And I have had to be careful not to rely on using the internet in my class as sometimes the focus on speaking can get lost. However, it brings an element of fun and entertainment to the class which I have found can work wonders!
2015/2016 Posted by Harriet S.
Have you ever used these websites? Are there any others you can suggest?
If you enjoyed this post, don't miss out the following articles with ideas for ESL lesson plans