Travelling is one of my favorite parts of living in Spain as a Language Assistant. Fortunately, I have had the opportunity to explore Europe from Spain, once I've fulfilled my duties as a Language Assistant in the school. Everywhere is so accessible and flights are so cheap, that travelling can be an exciting and affordable part of living in Spain! Whether it's every weekend or just a trip over Semana Santa, here are 8 countries you do not want to miss when travelling from Spain.
Countries Bordering Spain
Portugal
You have to visit Portugal! Many people go to the beachside city of Porto in the north or Faro in the south. However, my friends and I decided to make the journey to Lisbon, the capital of Portugal. You would think that Portuguese would be easily understandable compared to Spanish, but ironically it was very hard to understand! Luckily, many people in popular towns speak Spanish or English, which is quite common in Europe. This stunning city on the bay is accessible through a cheap flight or even bus ride.
The city reminded me of San Francisco with trolleys running through the streets and a massive red bridge crossing the water. There was also the Christ the King statue overlooking Lisbon, reminiscent of the one in Brazil. While there, we climbed São Jorge Castle to find breathtaking views of the city, enjoyed the delicious seafood, and drank unique vinho verde or green wine of Portugal.
France
France borders Spain to the north, therefore it is relatively cheap to find a flight or even train ride to the south such as Nice or Marseille. However, I chose to fly to Paris, which was a more expensive flight and stay but was something I didn't want to miss. I met a friend studying there and we traveled all around the city, from the Palace of Versailles to see the famed Hall of Mirrors, to the Sacré-Cœur Basilica, and of course, the Eiffel Tower.
The residents were welcoming and there was nothing better than sitting at a tiny café drinking wine and eating bread and cheese along the Seine river. The city has a more modern feel than other European towns, but it still offered many historical sites like the Notre-Dame Cathedral or the Arc de Triomphe.
Explore Europe from Spain: Let's Do It Mediterranean!
Italy
Italy was always on my bucket list since the food, the history, and the culture were all too enticing to miss. I set out first for Rome, the most easily accessible city from Madrid. The flight was very cheap and brought me to my favorite city in Europe. Modern and ancient history truly live side by side in Rome, where you may be walking back to your hotel with gelato in hand when you pass by the stunning Colosseum or the Trevi Fountain.
Additionally, Vatican City offers so many famous displays of art and beautiful views of the city. It is definitely worth spending a day there. We saw Michelangelo's Sistine Chapel, Raphael's School of Athens, and many more amazing artworks. From Rome, my friends and I travelled to Pompeii and Mount Vesuvius, then up north to Venice. I plan on returning soon, to the Amalfi Coast, Tuscany, or even Milan! Overall, Italy is a must-see country with many different and beautiful towns, and of course, pizza!
Greece
By far, Greece was my favorite place I visited while living in Spain as a Language Assistant. It offers amazing food, spectacular views, and welcoming people. However, this country is not very accessible from Spain.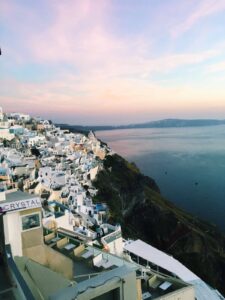 My friend and I had a layover in Italy both ways from Greece and it was the most expensive flight, about €150 total. Despite this, visiting Greece was worth every cent and minute!
We traveled first to Athens, the largest city in Greece. Seeing artifacts from ancient Greece and learning more about the mythology and culture was one of my favorite parts of the trip, as well as the gyros and baklava we ate daily. The main attractions of Greece are the islands around the country such as Mykonos and Crete. It's possible to take a ferry from Athens down to the islands, but the timing of the ferries is inconsistent and often the trips go to a few islands over a couple of days.
I would recommend setting aside a week for Greece, as we were pressed for time in the three days we were there. Hence, we took a flight from Athens directly to Santorini, a cheap 45-minute flight in the middle of the night. It took away from the experience a bit as many people recount the breathtaking experience of pulling up to the island on a boat and seeing the white houses on the cliffs for the first time. Nonetheless, we stayed in a beautiful Airbnb on the cliffs of Thira and explored the entire island, from the red beaches in Kamari to the beautiful sunsets in Oia. I would highly recommend this experience, even if it is a bit difficult to get to from Spain!
Making Memories in the North
Denmark
Copenhagen was a very modern and sleek city that offered some of the best food. Immediately, I noticed that it was a very eco-friendly city with bike paths and parks everywhere. We
explored Nyhavn where there are colorful houses on the river and trampolines in the streets, the Royal Palace, and the Carlsberg brewery. It was a lovely little city on the water with many cute cafés and stores to explore.
From Spain, the flight was a bit expensive and long, but it was worth it to spend a long weekend in the city. Be sure to stop by Paper Island, a food stall bazaar on a small island near the center of the city, for some of the best food!
Ireland
Although Ireland has a rich history, its natural landscape is truly what sets it apart from other countries. We spent ten days in Southern Ireland, starting in Dublin then taking a bus tour all around the country. We went to Galway, Claddagh, Cork, Kilkenny, and many more cities while exploring the quaint country. The rolling hills of Killarney National Park, the stunning Cliffs of Moher, and the rocky stones of the Burren show just how beautiful Ireland's natural landscapes can be. Additionally, sites such as famous pubs, the Books of Kells, Bunratty Castel, and the Blarney Stone offer a glimpse into the charming culture.
England
As an American, England offered solace and relief when homesickness hit in Spain since the cultures are so similar. This historic country offers many cities to visit, Manchester and London are some of the most popular. I traveled to London in the spring, a cheap direct flight from Madrid, and found it to be a beautiful city.
Witnessing Buckingham Palace, the London Eye, and Big Ben was a surreal experience after seeing so many pictures of all these places, then being able to see them for myself. We ate mostly typical English breakfasts and fish and chips while meandering through the city, enjoying the sites. I plan on returning to England to visit Manchester, a famous city that will offer another taste of British culture!
Prost! Prost! – Germany
Germany is easily accessible from Spain by plane but is more expensive than other European countries. Many people rave over visiting cities like Berlin or participating in the haunting experience of visiting a concentration camp. Nevertheless, my friends and I decided to travel to Munich to go to Oktoberfest. Oktoberfest occurs every year around the end of September through mid-October, and its smaller sister festival Springfest occurs around April every year.
Having attended both, I can attest that Springfest is much more manageable in terms of crowds, but both are wildly fun experiences for anyone in Spain during these times. Typical German food and beer are served during the festival, which is almost like a carnival with rides and games. Of course, part of the fun is dressing in typical German lederhosen and dirndl outfits!
---
How to Get There
Often, Skyscanner or Google flights can show the cheapest flights to different countries, but the cheapest flights many include a layover. Although it may be annoying to spend a few hours in a different country than your destination if it's long enough you may be able to have a short side trip in another place! Airbnb offers great accommodations, often cheaper than hotels, which can have kitchens and other amenities not usually offered in hotels. What is more, owners can suggest local favorites to give you an authentic taste of the city you're visiting!
Finally, while packing be aware that many airlines in Europe have very strict size limitations on bags, so you may have to only bring a small backpack or pay to bring an additional larger bag for more long-term trips.
These are my 8 favorite countries to explore Europe from Spain. However, there are many more that I have not had the chance to visit. I encourage you to discover them for yourself and then write about it. That's all! Have fun exploring!