I have had the utmost pleasure of spending almost 10 months as an English Language Assistant in a part of Spain that is often overlooked – Galicia. Galicia is a distinct, unique place; there's a sense here that nothing much has changed over the last few 100 years, yet enough vibrant communities to keep you entertained.
I have tried to travel around my new home as often as possible and have found that I have truly fallen in love with the province. It is not like the rest of Spain; Madrid, Barcelona, and Seville are nothing in comparison – you can't compare it, Galicia is one of a kind.
From the incredible cities and historical towns of Santiago de Compostela, Lugo, Coruña and Pontevedra to the striking waterfalls, forests, and coasts that cover the land.
Santiago de Compostela
I began my journey in Santiago de Compostela; the famous pilgrim city, where each year thousands of weary pilgrims reach their final destination at the bottom of the city's cathedral. Santiago de Compostela is a town with great history and it wears this proudly as tourists, pilgrims, students, and locals roam the streets in equal measure. Being bored is impossible; the city is brimming with culture, from local concerts in the bars to its world famous film festival. There are places to dance, sing, watch the traditional Foliadas (a Celtic musical custom) and chill out on the terrazas with friends.
Coruña
My next stop was Coruña and the coast. This modern city lies at the north of Galicia and boasts the famous Torre de Hercules the oldest Roman working lighthouse in Europe. Beautiful large gardens and a gorgeous coastline made for an exceptional day out. A stop at the famous Praia das Catedrais is always a plus too!
Lugo, Ourense and Pontevedra
After that I was fortunate enough to visit Lugo, Ourense and Pontevedra. These are historical towns with stunning churches and quaint Zona Viejas. I've yet to find words to describe the feeling of awe you get from wandering the streets of these old towns; a sense of humility and wonder you get nowhere else on earth. Through the streets of Galicia thousands of people have walked, each with their own story – creating a new part of history with every step.
Oh Galicia, Stunning Galicia
If you have the means to explore the outskirts of Galicia, this is where the true beauty lies. It is well known throughout Spain that Galicia is the greenest part of the country, due to its never ending downpour. However, do not let that phase you 'Sunshine all the time makes a desert' and Galicia holds its own.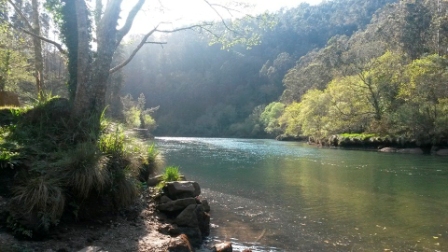 Let's start at the centre of the province in Ribeira Sacra, the area of the best white wine in the country, Albariño. Continue along As Fragas do Eume, a national park that leaves you mesmerized at the beauty of the world. And let's follow the other coast lines and beaches across La Costa del Morte and As Rias Baixas, which are also stunning places to spend a sunny day. Here you'll find some of the best sunsets in the world.
When people talk of Spain, you imagine Flamenco dancers on hot dusty streets; paellas and warm seas. Galicia is not this Spain. Galicia is the magic of witches, it rivals the beauty of the emerald isle and it holds its Celtic traditions with pride. You will see men, women and children dancing to its typical Celtic songs; speaking Galego, the old and renewed language of the province, and discover that there is natural beauty in the people who take such pride in whom they are and where they come from.
Galicia, you are not the Spain the world sees. You are not the Spain I expected. Galicia, you are the Spain I have come to know, come to love and will never ever forget.