In this post, you will find a story on my own experience getting a Spanish visa and going through the bureaucratic process in Spain. Don't freak out yet. Spanish bureaucracy is not as bad as you think!
So you have arrived in Spain! You made it through the anxious interviews, mountains of packing, catching a flight and last-minute Spanish Duolingo sessions, but at last you made it. You might be feeling slightly overwhelmed, and maybe even a little nervous to start teaching in a new school or to meet your new housemates or host family. However, the overall feeling is excitement for this new experience you're about to embark on.
There is just one more thing you need to do… oh, yeah, get a Spanish visa.
Although easier said than done, it is not impossible. You might have heard some horror stories or bad press about Spanish bureaucracy, but, after going through the process myself I am here to tell you it isn't all bad! After making my fair share of mistakes when getting my Spanish visa, I thought I would share my own tips so you can take some shortcuts to get yours.
6 Tips to Get a Spanish Visa
1. The Meddeas Timeline… Use It!
Luckily for you, Meddeas actually sends a pretty useful page on the timeline that details the general direction you need to go in to get your Spanish visa. However, there are subtle differences in this process that depend on the region of Spain you are in. My experience was in Catalonia, but I believe you can use these tips in all regions of Spain.
2. Reserve a TIE Appointment
Appointments fill up extremely fast, and it is very likely you will only be able to book one for weeks in advance! Therefore, make reserving a TIE appointment as soon as you're in Spain one of the first things you do. You don't want to be waiting weeks or even months for a TIE appointment once you have your padrón.
Bear in mind that you need a Spanish phone number to reserve the appointment, so make sure you have one! Appointments can be hard to get. However, most offices have a particular day and time during the week when new appointments come out.
This was not explained on the website for my city, but I went to the office location and it had a sign outside the building detailing the day. I then logged on to the website on that day and there were lots of new appointments. If you are really struggling to get a time, would recommend trying to find out when the new ones come out!
Print out the page or confirmation email you get and bring this to your appointment as proof of your reservation.
3. Request a Padrón Certificate Before Anything!
You need a Padrón certificate to take to your TIE appointment, so this is what you must do before preparing for your TIE. Search the name of your city + empadronamiento, make an appointment, and make sure you fill out and print any documentation you need to take.
I also recommend printing out the confirmation of your appointment, as most places are very strict on having appointments, especially after COVID. Bear in mind, padrón is the result of an 'empadronamiento.' So, if you are struggling to see anything saying 'padrón,' this may be why!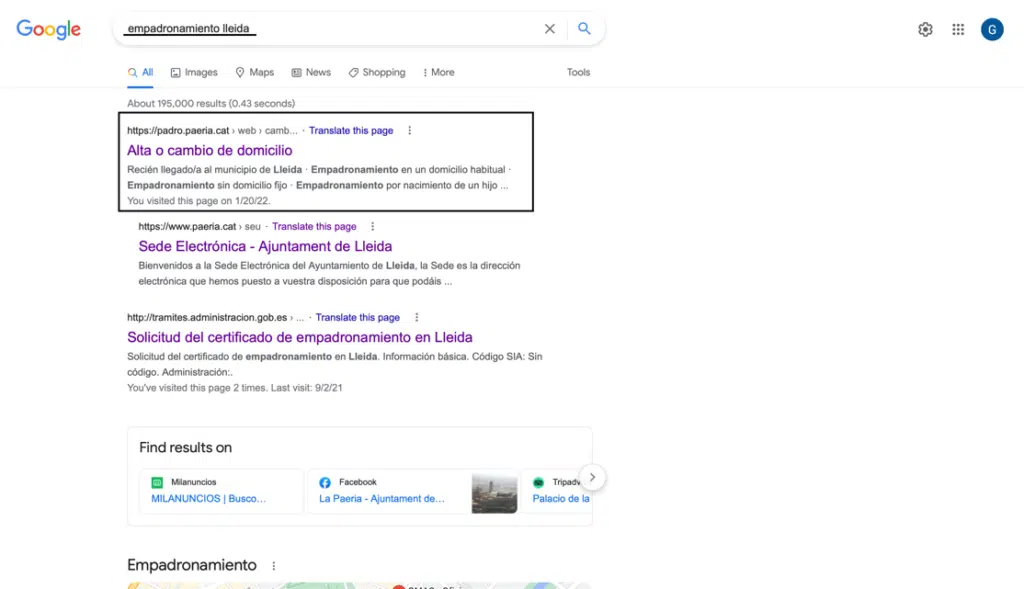 4. Speak to Locals
If the website is in Spanish, Catalan or another regional language, or you are generally confused about the process, try speaking to a local! I would recommend asking the teachers at your school, one of your housemates, or a host family from the area.
You will be surprised by people's willingness to help! They may have even been through the process themselves, so they can help you! I asked a family for help, and they gave me a hand translating the documents I needed.
5. Organize your Documents!
In the actual appointment, if it is anything like my experience, you don't have to do much once you are there. However, it is your responsibility to have all of your documents together, printed and organized. The Meddeas timeline outlines all of the documents you need, but make sure you have all of these completed correctly, and printed out.
The offices are very, very unlikely to make exceptions for mistakes. If you forget a document, you are unlikely to be accepted for a TIE and you will have to make another appointment and wait all over again. I had a checklist of all the documents I needed and ticked this off as I got each one, and kept them all together in a separate plastic wallet which I took to the appointment with me! In the appointment they will ask for these, so this makes the process seamless and painless!
Remember also to pay in your bank form and bring the receipts, and to fill out two copies of your EX-17!
6. Collecting your TIE Card
Now the hard bit is over. You have submitted your documents and applied for your TIE, well done! However, it may seme obvious, but don't forget to collect it! As soon as you have returned from your appointment, remember to book an appointment to collect your card! This is again detailed on the platform. If not, you risk forgetting!
Make sure you allow enough time to pick it up, as it can take 30-45 days for them to process the card, and you don't want to make an appointment before it's ready! Again, print out your appointment confirmation and bring the piece of paper they gave you when you applied for your TIE.
That is all there is to it. It may seem like a lot, but use the resources and people around you and before you know it, you will be on your way to collecting your TIE card! My experience was in Lleida, Catalonia, but these can be used across all of Spain.
¡Buena suerte!